Best Weight Loss Gifts to Show Your Support
Are you looking for a way to show support to your friend or family member on their weight loss journey?
Sometimes a little extra encouragement and a thoughtful gift can go a long way.
Here are some great weight loss gift ideas that will help your loved ones stay on track.
Disclosure: I only recommend products I would use myself, and all opinions expressed here are our own. This post may contain affiliate links that at no additional cost to you, I may earn a small commission.
Inspirational Braclets
Inspirational bracelets can serve as a visual reminder of one's goals and progress.
It's easy to give up when trying to make healthy lifestyle changes, but having a tangible reminder of your support can help keep them motivated and inspired.
Charm Key Chain
A weight loss charm key chain is a unique and thoughtful way to keep your wife, friend, mom, or sister motivated.
Fitness Trackers
A fitness tracker is a great gift for someone trying to lose weight. It keeps track of activities, calories burned, and even sleep patterns so that users can better monitor their progress and adjust their routines accordingly.
Plus, it's a fun way to get into shape.
Fitness Trackers Under $100
Fitness Trackers Under $250
For the Tech Enthusiast
Lumen
The Lumen device is a revolutionary way to track metabolism. This device measures the metabolic rate using breath.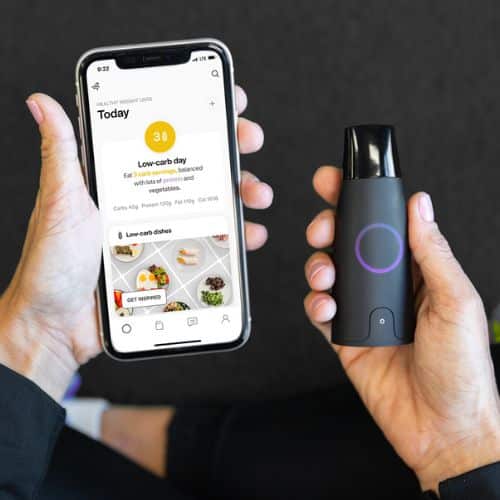 Your friend or family member will blow on the Lumen, and based on that, the device will provide the best way to fuel the body to reach weight loss goals.
It is fun and can keep the motivation going!
What is great is that the diet suggestions change according to metabolism, so it is easy and fun to follow.
Learn more about Lumen here. Enter code menobetter for $50 off.
Make Portion Control Easy
Food Scale
Is your friend or family member on a diet that requires portion control of food (i.e., counting macros, diabetic exchange)?
Accurately measuring foods can help them stick to their diet plan and see progress. A food scale is an affordable gift that will provide great benefits in the long run.
Portion Control Plates and Containers
Give the gift of easy portion control with these plates. These plates and containers work well with weight loss methods such as the Harvard Healthy Eating Plate, USDA MyPlate, and overall portion control.
Lunch Boxes
A common struggle is to find ways to eat healthily at work. Lunch boxes are an easy way to take healthy meals on the go. Look for lunch boxes with insulated compartments so that hot and cold foods can stay at the right temperature.
Make Workouts Better
An active lifestyle can kickstart the process of shedding pounds and promote lasting results. However, it is one of the hardest parts of the weight loss journey. Give a gift to make workouts more enjoyable.
Wireless Headphones
Music can help improve performance and give your loved one some motivation to push through a workout. Quality wireless headphones are a great addition for any fitness fanatic who loves jamming out during their workouts.
Weight Set for Home Workout
Gifting home workout equipment is a great way to show your support for their weight loss journey. A weight set will provide ample opportunity to get the most out of a home workout without taking up too much space.
Resistance Band Set
Resistance bands are one of the most versatile pieces of exercise equipment. These can be used for a variety of exercises and target different muscle groups. Also, they are perfect for those who travel often.
Plus, they're super affordable, which makes them perfect for anyone on a budget!
BODi Membership
For someone who is looking to work out at home, a BODi (formerly known as Beach Body on Demand) subscription is the perfect gift. With access to over 2,000 workouts, your friend or family member can train with some of the world's best trainers in every genre of fitness, from yoga and Pilates to HIIT and weight training!
It is surprisingly affordable!
Gym Membership
If your friend or family member is more of an in-person gym goer, consider gifting a membership to the gym. It's the perfect way for them to access equipment and trainers that can help them reach their fitness goals faster.
Whether it is a one-month pass or a year-long subscription, this gift will surely be appreciated.
Indoor Cycling Bike
Feeling generous? Consider gifting an indoor cycling bike. This is a great way for your loved one to access high-intensity interval training and burn calories quickly. Plus, it will give them the motivation to stick with their workout routine.
An indoor cycling bike is also perfect for those who want a more intense experience than running on a treadmill—without having to leave the house!
Scale
A scale is one of the most important tools for tracking weight loss progress, so it's always a good idea to have one in your arsenal.
A digital scale is a great choice as it can accurately measure small changes in weight—which can be very motivating! Plus, they are often quite affordable and easy to use.
If you want to go a step above, choose a scale that can also measure body fat.
Weight Loss Journals
Weight loss tracking can be difficult, and it is easy to forget why you are doing what you're doing.
Help your loved one stay on track with a weight loss journal! Journals come in all shapes and sizes, so you can find one that suits their needs perfectly. Plus, they provide an extra layer of motivation to keep going when the going gets tough.
Water Bottles
Hydration is key! Water bottles and other beverage containers are a great way to keep your friend or family member hydrated during workouts.
The Bottom Line
No matter what gift you choose, the most important thing is to show support and encouragement throughout ar weight loss journey. Gifting someone with something that will help them reach their goals is an amazing way to help them stay on track!
Dr. Su-Nui Escobar is a Registered Dietitian/Nutritionist in Miami, FL. She is passionate about helping women over 40 live their best lives through healthy eating and a healthy lifestyle. Su-Nui is a doctor in clinical nutrition, able to translate complicated evidence-based science into practical advice.  Su-Nui is the former spokesperson of the Academy of Nutrition and Dietetics.