Pure Indulgence: Fall-Inspired Overnight Oats
Written by soon-to-be Registered Dietitian Ruby Rodriguez and edited by Dr. Su-Nui Escobar, DCN, RDN, FAND.
Fall is finally here! It's the season for those warm spices that bring us comfort and satisfaction. Start your busy day off with a delicious and nutritious breakfast that will also save you valuable minutes in your morning routine. You can even take our overnight oats with you on the go.
We've used cozy autumn spices like cinnamon, nutmeg, and ginger to give these oats a delicious flavor profile.
Plus, these spices are anti-inflammatory, and the oats are loaded with fiber. With so much to contribute to your health and happiness, why not give them a try?
Overnight Oats are Healthy and Convenient
Overnight oats are a healthy and convenient way to start your day. They're easy to make, portable, and can be customized with your favorite toppings.
They're made by combining oats and milk in a jar or other container. The mixture is then refrigerated overnight so the oats can soak up the liquid and soften. In the morning, you can top it up with fresh fruit, nuts, seeds, or other desired toppings and eat it straight from the jar.
Because you make them ahead of time, they're ideal for a quick and healthy breakfast.
Ingredients
Oats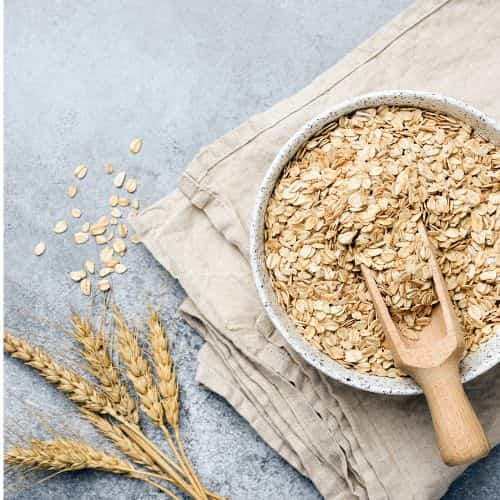 Oats are a terrific source of carbohydrates that will provide long-lasting energy for a great start to your day.
In addition to providing carbohydrates, oats are a powerhouse of other nutrients, including vitamin B6, which is involved in the production of serotonin. Serotonin is a neurotransmitter that helps control mood, sleep, wound healing, blood clotting, and sexual desire.
To top it off, oats are rich in soluble fiber, a nutrient that helps to maintain healthy cholesterol levels.
But these are just a few of the advantages; oats are one of those superfoods with a long list of health benefits.
Chia Seeds
The chia seeds in this recipe for overnight oats are an additional source of fiber. Including them in your breakfast provides satiety to help keep you feeling full for a long time.
These seeds are also one of the few plant sources of omega-3 fatty acids, well-known to be beneficial for your health in many different ways.
Flax Seeds
Whether you choose whole or ground flax seeds, just one tablespoon will provide 10% of the recommended daily intake of thiamine, a nutrient that plays a vital role in governing the metabolism.
Furthermore, from that one tablespoon of flaxseeds, you will also get two grams of both soluble and insoluble fiber, essential for gut health. Soluble fiber also helps to slow down the digestive process to enable better absorption of nutrients.
Whether you choose whole or ground flax seeds, just one tablespoon will provide 10% of the recommended daily intake of thiamine, a nutrient that plays a vital role in governing the metabolism.
Furthermore, from that one tablespoon of flaxseeds, you will also get two grams of both soluble and insoluble fiber, essential for gut health. Soluble fiber also helps to slow down the digestive process to enable better absorption of nutrients.
Flax seeds are another omega-3-rich plant-based food.
Almond Milk
Almond milk is rich in anti-inflammatory vitamin E. This fat-soluble vitamin serves as an antioxidant in the body that helps protect against signs of aging and cancer.
Yogurt
Adding yogurt to your overnight oats adds so much more creaminess!
Even more importantly, yogurt provides many benefits for your health. It's a good source of protein, calcium, and probiotics. The live cultures in yogurt support the gut microbiota to support good digestion.
Cinnamon
Spicing up oatmeal with cinnamon gives it the perfect warm sweetness.
This wonderful brown spice contains powerful antioxidant properties that work to protect the body against the free radicals and oxidative stress that are known to cause cancer.
Cinnamon also has antimicrobial action for fighting infections.
Nutmeg
Boosting your day with nutmeg will provide you with anti-inflammatory compounds to reduce inflammation-related pain.
It also improves digestive movement to prevent bloating and constipation.
Nutmeg also provides magnesium and phytonutrients, so you can improve your sleep by including this powerful spice in your diet.
Ginger
Ginger is a root with many powerful benefits It helps to improve digestion, reduces nausea and vomiting, regulates blood sugar, and has anti-inflammatory properties.
Apples
The old adage says that an apple a day keeps the doctor away! Apples have definitely earned their reputation as one of the most popular fruits. They contain fiber, vitamin C, and important phytochemicals.
The pectin in apples provides soluble fiber that helps lower cholesterol while improving colon health. For that reason, it's important to keep the skin when you eat apples since that's where the fiber is.
Apples are also great if you're looking to lose weight. The fiber works to slow digestion, keeping you fuller for longer, so you have fewer cravings for unhealthy food.
FAQ
Is there an easier way to cut an apple?
Because of their round shape, it can seem difficult to cut apples into cubes.
After thoroughly washing your apple, cut it in half and lay the half flat side down on the cutting surface. Next, thickly slice each half vertically and slice off the core. Lastly, lay the slices down flat and cut them into cubes.
Watch this video to see how to cut an apple in cubes.
Why do I need to store my overnight oats in the refrigerator?
It's necessary to store your oats in the refrigerator to prevent microorganism overgrowth.
Please note that storing the container of oats on the refrigerator door will be less beneficial, as the temperature in that area is less cool. Preferably, store your oats in the middle of the refrigerator and make sure the temperature is set to normal. If your cover your oats with an airtight lid, they can last up to seven days when properly refrigerated.
How long will my oats stay fresh?
You can keep your oats in the refrigerator for up to 7 days, but for flavor, it's best to eat them within 2-3 days.
However, as time goes on, the milk will begin to separate from your oats. If you notice that they begin to look dry, simply stir from the bottom up to bring back the creaminess. Otherwise, you could also add a splash of milk if you prefer a creamier texture.
What container is optimal for a serving?
Mason jars are an excellent choice for storing your overnight oats.
How to Make Fall Overnight Oats
This recipe has an extra layer of indulgence by adding spice-stewed apples. Not only do the apples add some rich sweetness to your breakfast, but they also soak up all the wonderful fall spices.
Fall-Inspired Overnight Oats
This overnight oats recipe is a healthier way to indulge in the flavors of fall and a perfect grab-and-go breakfast.
Print
Pin
Rate
Ingredients
1

medium-sized red apple

I used Honey Crisp

2

tbsp

water

½

tsp

cinnamon

ground divided

2

tbsp

maple syrup

1-2

cloves

¾

cup

plain rolled oats

1

tbsp

chia seeds

1

tbsp

flaxseed meal

or you can use whole flax seeds

¼

tsp

nutmeg

ground

1/4

tsp

ginger

ground

¼

cup

coconut milk yogurt

plain (or any other plain plant-based yogurt)

1

cup

almond milk

vanilla

2

tbsp

almond butter
Instructions
Cut the apples (with skin) into small cubes

In a small-sized pot, add the apples, water, half of the cinnamon, cloves, and maple syrup.

Heat the pot on low and stir all ingredients together for 2-3 minutes.

Stir until the apples look cooked and semi-golden yellow.

Turn off the heat and set aside.

In two 16 ounces Mason jars, divide the oats, chia seeds, flax seeds, remainder of the cinnamon, nutmeg, and ginger.

Combine all ingredients in each jar with a spoon until evenly mixed.

Divide the almond milk and yogurt between the jars.

Stir until ingredients are well mixed.

Add almond butter to each jar and stir again.

When the apples are cool, add to the top of the oats, including the leftover syrup. You can remove the cloves or include them in the oats.

Cover the Mason jar with their lids. Place in the refrigerator for at least 4 hours or overnight.

Enjoy your oats the next day.
Notes
Suggested toppings: walnuts or shaved almonds
Nutrition
Serving:
2
people
|
Calories:
368
kcal
|
Carbohydrates:
51
g
|
Protein:
9
g
|
Fat:
16
g
|
Saturated Fat:
1
g
|
Polyunsaturated Fat:
6
g
|
Monounsaturated Fat:
7
g
|
Trans Fat:
0.01
g
|
Sodium:
174
mg
|
Potassium:
410
mg
|
Fiber:
10
g
|
Sugar:
25
g
|
Vitamin A:
139
IU
|
Vitamin C:
9
mg
|
Calcium:
335
mg
|
Iron:
2
mg
Share on Facebook
Share by Email
The Bottom Line
Oatmeal is a great energy source to start off any morning at home or on the go. The warming spices bring you fall in a cup along with their powerful anti-inflammatory benefits. Adding nutrient-dense ingredients like chia seeds, flax seeds, ginger, almond butter, almond milk, and yogurt can also boost your metabolism throughout the day ahead.
References
Food data Central. https://fdc.nal.usda.gov/index.html. Accessed October 27, 2022.
Deckelbaum RJ, Torrejon C. The omega-3 fatty acid nutritional landscape: Health benefits and sources. The Journal of Nutrition. 2012;142(3). doi:10.3945/jn.111.148080.
Using magnesium for better sleep. Sleep Foundation. https://www.sleepfoundation.org/magnesium. Published November 17, 2022. Accessed November 20, 2022.
Shahrajabian MH, Sun W, Cheng Q. Clinical aspects and health benefits of ginger (zingiber officinale) in both traditional Chinese medicine and modern industry. Acta Agriculturae Scandinavica, Section B — Soil & Plant Science. 2019;69(6):546-556. doi:10.1080/09064710.2019.1606930.
Dr. Su-Nui Escobar, a Registered Dietitian/Nutritionist in Miami, FL, is dedicated to empowering women in perimenopause and menopause to live healthier, more satisfying lives.
With a doctorate in clinical nutrition from the University of North Florida, she has expertise in menopause and weight loss, including the unique challenges faced by those on weight loss medications.
Su-Nui's passion for her field is evident in her previous role as the Academy of Nutrition and Dietetics spokesperson.