The Link Between Alcohol and Menopause
Drinking a nice glass of wine or a cocktail feels natural for many people. In fact, 70% of people living in the United States reported drinking alcohol at some point in the past year. (1)
But can it make menopause symptoms worse?
The available information about the relationship between alcohol and menopause can be confusing. On one hand, you often hear that it can make menopause symptoms worse. On the other hand, it's reported that it can help with hot flashes and heart health.
So before you draw any conclusions about drinking and menopause, let's review the evidence.
Alcohol and Menopause Weight Gain
Calories in Alcohol
Because of fluctuation in hormones, many women struggle with weight gain during menopause. Additionally, drinking can make it more difficult to achieve and maintain a healthy weight.
Simple math can give clarity to this topic:
One 5-oz glass of wine equals 125 calories
If you drink one glass of wine a day, four times a week for a year, you drink approximately 26,000 calories in a year.
You would need to walk approximately 130 hours at a moderate intensity to burn those calories.
In other words, you would need to walk two-to-three times every week to burn the calories you consume by drinking one small glass of wine four or five times a week.
Keep in mind that wine is one of the alcoholic beverages with relatively fewer calories! So, as you can see, it's easy to gain more weight and harder to lose that weight when you're drinking regularly.
Influence of Alcohol on Hunger Hormones
Are you guilty of saying yes to that hamburger or having seconds after having a couple of cocktails?
It's not a lack of self-control. Alcohol influences the hormones related to satiety and appetite. What's more, it can impact neurons in the brain, giving you a feeling of intense hunger.(2)
As if encouraging the feelings of hunger wasn't enough, alcohol can also lower blood sugar, making you crave sugar and fat.
So not only do you eat more than you otherwise might, but your choices are the unhealthy ones most likely to have a negative effect on your health and weight.
Hot Flashes and Alcohol
When it comes to having a few drinks, it's not all bad news, though. Some studies suggest that alcohol users might have less severe hot flashes.
For example, a study among 732 women showed that those who regularly imbibed were less likely to have severe hot flashes.(3) As yet, however, there has not been enough research to support this conclusion.
Other studies suggest resveratrol (a component found in wine) can help treat hot flashes. It has been suggested that this substance reduces the number of episodes and the severity of hot flashes.(4) Keep in mind that you can also find resveratrol in grapes and supplements, although it's not present in raisins.
In spite of the evidence showing that drinking might be beneficial to hot flashes, it can actually trigger hot flashes in women who have lower amounts of the enzyme that helps break down alcohol.(5)
In addition, alcohol can trigger hot flashes when you take certain medications.(​​5)
Alcohol and Menopause Night Sweats
For some women, a night-time glass of wine or two can cause night sweats because of the effect on the nervous system. Additionally, alcoholic drinks can also affect how the body regulates temperature.(6)
Finally, if the drinking is excessive, night sweats could even be the result of withdrawal.
Alcohol and Sleep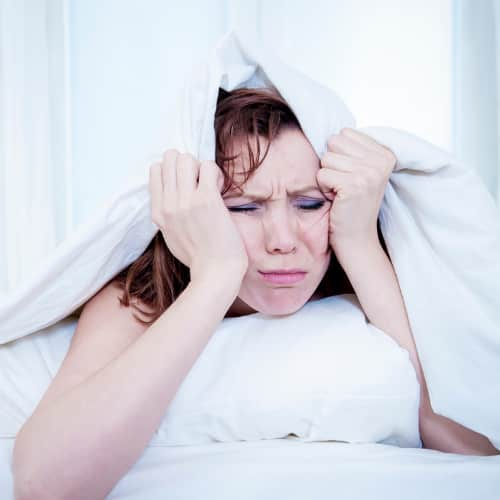 Many people have a few drinks to help them fall asleep. However, alcohol can often cause insomnia because it reduces REM sleep and increases sleep disruption.
So, for those who fall asleep after drinking, the alcohol prevents them from reaching a deep sleep, decreasing sleep quality and quantity.(7)
Furthermore, as discussed earlier, your favorite tipple can make hot flashes and night sweats worse, making a good night's sleep impossible.
Another way that alcohol disrupts sleep is by increasing the risk of sleep apnea, a common sleep disorder.(7)
Alcohol and Anxiety
Anxiety is common in menopause, and many women drink to cope with these unwanted feelings. However, alcohol disrupts the chemicals in the brain that help you to relax. So you may find that instead of relieving anxiety, the glass of wine that you take to unwind can do the opposite and fuel your anxiety throughout the day.
Risks of Drinking too Much
Drinking in excess can affect women in several ways. In the short term, drinking too much can put you at risk of injuries, accidents, violence, alcohol poisoning, and unsafe sexual behavior.(8)
In the long term, it can result in serious chronic conditions such as cirrhosis, alcoholic fatty liver, heart disease, stroke, cancer, weakened immune systems, memory deficit, anxiety, depression, and relationship problems.(8, 9)
Why are Hangovers Worse as We Age?
As we age, we have less of the enzyme that helps process alcohol, so it is broken down more slowly. This makes us more intolerant to alcoholic effects during the menopausal years.
Also, women in their forties and fifties are more likely to take supplements and medications that might interfere with the body's ability to metabolize alcohol.
Benefits of Alcohol
There are a few potential benefits of drinking alcohol.
It has been reported that having some in moderation can help decrease the risk of cardiovascular disease.(10) However, this finding has recently been challenged by large studies.(11)
Recommendations for Alcohol Intake
The current recommendation is one drink a day for women.
How much is one drink?
Wine: 5 ounces
Beer: 12 ounces (1 bottle)
Spirits: 1.5 ounces
Ways to Lower Alcohol Intake
Practice Mindful Drinking
The first step is to be mindful about drinking. For many, drinking is a habit, and to break it, you first need to be aware of how much you have and when you have it.
For example, if you notice that you routinely drink at specific times or events, start questioning if you really want to drink at those times or if it is just a repeated habit.
You might realize that you pour a glass of wine after work without even thinking about it or considering whether or not you really want it. Once you are aware of the habit, you can decide if you really want it or if you could drink tea or water or to go for a walk instead.
If you decide to have the drink, then enjoy it and drink slowly.
One of the easier and more fun ways to break the alcohol habit is to join one of the many challenges that encourage participants to stop drinking for a month, such as Dry January or Sober October.
After a month of not drinking, you might be surprised to discover that your body feels different. This will enable you to really assess how alcohol affects your body.
You will also have a new mindset and will be able to stop the kind of habitual drinking that you do without thinking about it. After not drinking for a month, turning to alcohol will no longer be routine.
This type of organized challenge is usually supported by a Facebook community that will help and encourage you and apps to help you stay motivated through the month.
One very important point to be aware of is that the sober curious movement is not about being sober to resolve an addiction. The movement is about being mindful about drinking. Addiction or alcoholism is a serious condition that needs more specific support.
Choose Mocktails over Cocktails
The variety of mocktails available at bars is expanding as well as the variety of non-alcoholic drinks that are available to buy and enjoy at home.
There are plenty of alternatives to alcohol beyond common choices like sparkling water and juices. You can choose to follow one of these great recipes or get creative and make your own combination.
Create New Routines
It's difficult to skip a glass of wine if you're in a bar with your girlfriends. So it can help to start new routines with them instead, like going to the movies or walking as a group. You can get healthier together!
If you drink at home, then creating new routines at home will help break the habit of mentally connecting a time of day or activity with alcohol.
When to Avoid Alcohol
There are times when alcohol should be avoided completely. Avoid consuming it if:
You have been diagnosed with alcoholism
You have liver disease
You have pancreatic disease
You have heart failure
You are taking medication that interferes with alcohol (read the labels)
Your doctor advises you to stop drinking
The Bottom Line
Drinking alcohol is a personal choice that is influenced by how you feel afterward. If you have issues sleeping or have hot flashes or night sweats after having a drink, then maybe it's time to evaluate if it's worth it for you.
Alcohol impacts common menopausal symptoms, but it does not affect everyone the same.
Dr. Su-Nui Escobar is a Registered Dietitian/Nutritionist in Miami, FL. She is passionate about helping women over 40 live their best lives through healthy eating and a healthy lifestyle. Su-Nui is a doctor in clinical nutrition, able to translate complicated evidence-based science into practical advice.  Su-Nui is the former spokesperson of the Academy of Nutrition and Dietetics.