Amazing Turmeric Shot Benefits [+ Recipes]
If you're looking for an easy and delicious way to unlock the amazing health benefits of turmeric, you need to start drinking turmeric shots!
Turmeric shots are concentrated 3-to-4-ounce drinks that contain fresh or powdered turmeric together with other ingredients, like lemon or orange juice, black pepper, and coconut oil.
Shots are a great way to get turmeric's anti-inflammatory and antioxidant benefits in an easy-to-consume, concentrated form.
In this blog post, we describe the benefits, and you will find 10 delicious recipes that you can make at home. Enjoy!
Benefits of Turmeric Shots
Powerful anti-inflammatory effects
Boost immune system
Improve gut health
Reduce menopause symptoms
Reduce joint pain
Provide antioxidant protection
Improve heart health
Give you a burst of energy without the caffeine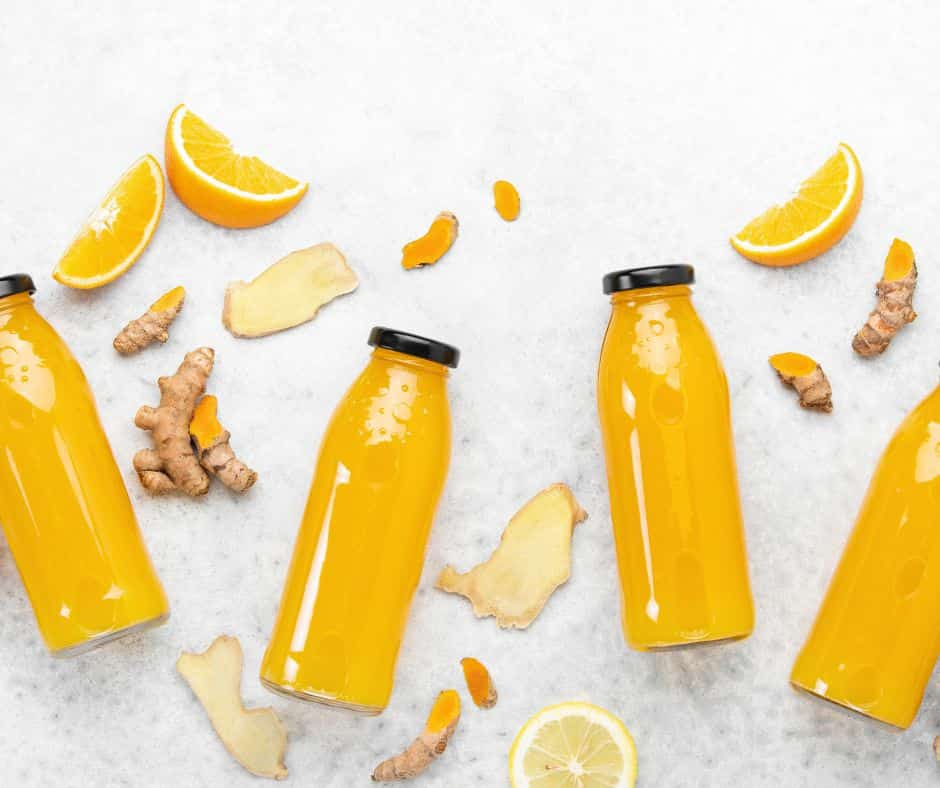 Powerful Anti-inflammatory
The main ingredient in this shot is well-known for its anti-inflammatory properties.
Additionally, it appears to reduce oxidative stress — an imbalance between pro-oxidant and antioxidant forces — which can cause further inflammation.
Boosts Immune System
Turmeric wellness shots are an easy and convenient way to introduce this powerhouse spice into your diet.
The main active ingredient in turmeric, curcumin, has been proven to promote a healthy immune system and support its ability to fight off bacteria and viruses.
Moreover, these shots often contain lemon or orange juice, both well-known sources of vitamin C.
Vitamin C plays an important role in assisting the immune system. It helps to strengthen the body's natural defense against infections and diseases by promoting the production of white blood cells, which are responsible for fighting off germs and viruses.
Improve Gut Health
The anti-inflammatory properties of curcumin can reduce inflammation in the digestive tract, which can improve digestion and the absorption of nutrients.
Emerging research shows that turmeric, in combination with black pepper, can increase levels of "good" bacteria in the gut, which is another way to improve gut health.
A healthy gut is important for overall health, including reaching and maintaining a healthy weight.
Reduce Menopause Symptoms
Turmeric can help reduce menopause symptoms, like hot flashes, brain fog, depression, and more.
Wellness shots provide a great way to get an extra dose of turmeric into your diet when you are menopausal.
Reduce Joint Pain
Turmeric shots can also help reduce joint pain due to their anti-inflammatory properties. Curcumin has been shown to reduce inflammation and swelling in the joints. This is also beneficial for the joint pain that comes with menopause.
Additionally, the shots often contain black pepper, which helps increase the bioavailability of curcumin and intensifies its anti-inflammatory effects.
Provide Antioxidant Protection
Shots are an easy and delicious way to get the antioxidant protection your body needs.
Curcumin is a powerful antioxidant that can help protect cells from damage caused by free radicals.
Additionally, many of the ingredients used in these wellness shots, such as lemon or orange juice, are also rich sources of antioxidants. This combination helps to reduce oxidative stress to protect our bodies at a cellular level.
Improve Heart Health
Curcumin has a protective effect on cardiovascular health. It can reduce the level of bad cholesterol in the blood while increasing good cholesterol.
Additionally, curcumin helps to prevent atherosclerosis by inhibiting plaque formation on the artery walls, reducing blood pressure.
Studies also indicate that curcumin may be able to reduce oxidative stress in arteries, which further reduces the risk of developing heart disease or stroke.
By consuming turmeric shots regularly, you can enjoy all these amazing benefits and protect your heart health!
Give You a Burst of Energy Without the Caffeine
If you're looking for a natural way to boost your energy levels, these shots might just be the answer.
The main active ingredient in turmeric is known to provide a natural source of energy that helps reduce fatigue and increase alertness.
Moreover, other ingredients, like lemon or orange juice, are rich in natural sugars. This can give you a quick energy fix without the crash and caffeine jitters.
FAQ
How long can you store turmeric shots?
You can store them in the refrigerator for three days to retain most properties.
How do you take them?
It is best to take a turmeric shot is in the morning or before a workout. You can also mix it with water or any other beverage.
Are there any side effects?
In general, turmeric shots are safe to consume and have no known serious side effects. However, in some people, it can cause stomach upset, nausea, dizziness, or diarrhea.
Can you buy them?
Yes, you can buy them at most health food stores and juice bars.
You can also make them at home using natural ingredients such as powdered or fresh turmeric root, lemon, honey, and black pepper.
Here are some great recipes to try.
Recipes
Now, let's get to the good part, the recipes!
Turmeric Shot With Black Pepper and Honey
This recipe is based on Ayurveda and has three basic ingredients: turmeric, black pepper, and honey.
Interestingly, it adds a shot of healthy fat, which helps with the absorption of curcumin.
This recipe provides the option to use fresh or ground turmeric and uses a blender or juicer.
Ginger Turmeric Shot With Coconut Water
Ginger is another spice with amazing health benefits, and you'll find that many wellness shots include this powerful ingredient.
Coconut water is also often used in shots. It provides a natural source of electrolytes and has many other health benefits.
This ginger turmeric shot recipe is easy to make, but it's also refreshing and delicious!
Lemon Ginger Turmeric Shots Using a Juicer
Wellness shots can be made in a blender or a juicer, like this lemon and ginger version.
Both have health benefits, so choose what you like the best (or which is easier to make).
My Expert Opinion
While there is no one single food that can provide all the nutrients you need for optimal health, turmeric shots are an easy and convenient way to add some powerful antioxidants and other health benefits into your daily routine.
Dr. Su-Nui Escobar, a Registered Dietitian/Nutritionist in Miami, FL, is dedicated to empowering women in perimenopause and menopause to live healthier, more satisfying lives.
With a doctorate in clinical nutrition from the University of North Florida, she has expertise in menopause and weight loss, including the unique challenges faced by those on weight loss medications.
Su-Nui's passion for her field is evident in her previous role as the Academy of Nutrition and Dietetics spokesperson.