Anti-Inflammatory Salad Dressings: Healing Recipes for Vibrant Health
Anti-inflammatory salad dressings are perfect if you're looking to ditch the unhealthy dressings, mayo-based salads, and fatty condiments.
These salad dressings are not only healthy, but they're delicious too! These dressings use healing ingredients like olive oil, ginger, turmeric, garlic, and shallots to help reduce inflammation and promote better health. What's more, they're super easy to make.
So why wait? Start whipping up your favorite anti-inflammatory salad dressing today!
Benefits of an Anti-inflammatory Diet
Inflammation is the body's natural response to injury or infection, but when it gets out of hand, chronic inflammation can lead to a number of health issues.
An anti-inflammatory diet can help to reduce chronic inflammation and improve your health.
Studies have shown that an anti-inflammatory diet can provide all these benefits:
Promotes weight loss
Improves heart health
Supports gut health
Boosts immunity
Enhances brain health
Improves joint function
Reduces the risk of some chronic diseases, like anxiety and depression
Helps to reduce pain related to inflammation, such as joint pain
In addition, an anti-inflammatory diet is often rich in vitamins, minerals, and other nutrients essential for good health.
For all these reasons, an anti-inflammatory diet is a great choice for anyone looking to improve their health overall.
Ingredients of an Anti-Inflammatory Salad Dressing
The basic ingredients in salad dressing are oil and an acid such as vinegar, lemon, or lime juice.
The ratio of oil to the acid is usually three parts oil to one part vinegar, lemon or lime juice, but this can be adjusted to your preference.
If you like a sharp flavor, you can use two parts oil and one part juice or vinegar. This will also reduce the number of calories in the dressing.
To this base, you can add herbs, spices, garlic, shallots, honey, mustard, salt, and pepper to create a wide variety of flavors.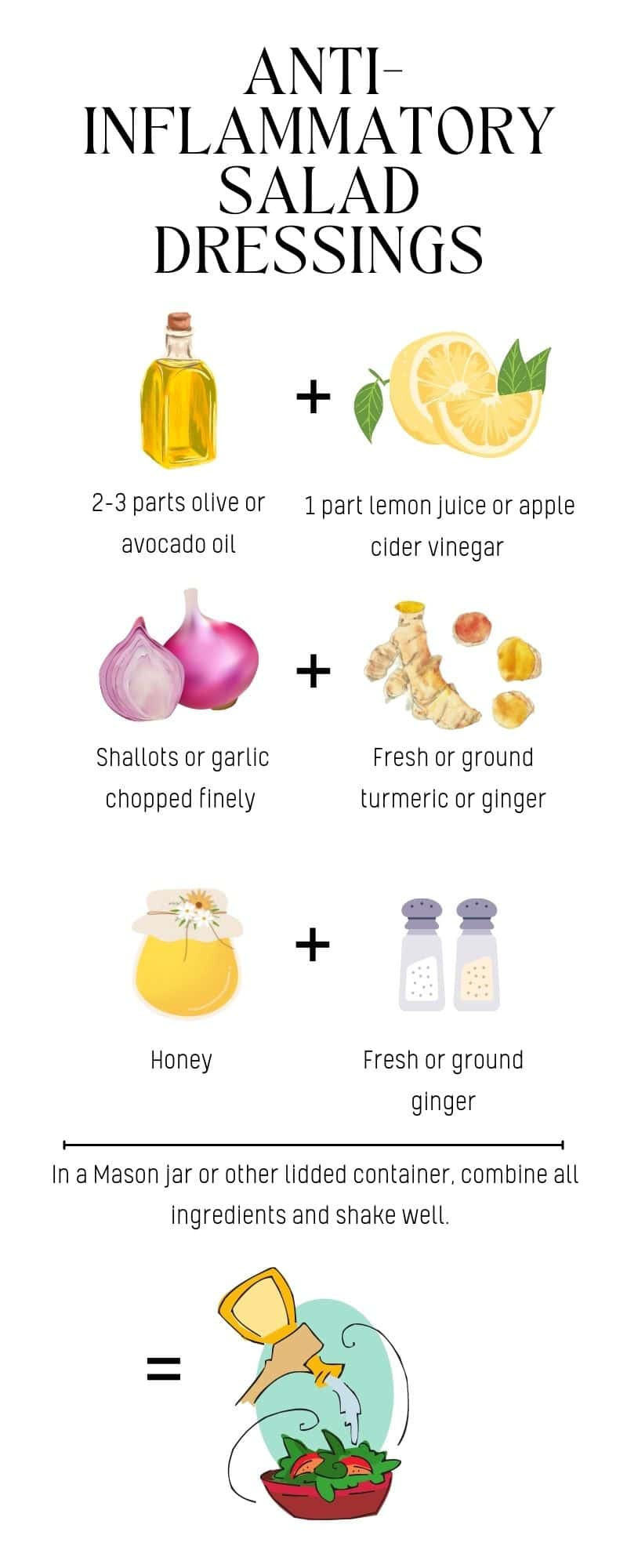 Here are some of the best ingredients for an anti-inflammatory salad dressing:
The Oils
Olive Oil
Loaded with antioxidants and healthy monounsaturated fats, olive oil is probably the best oil for an anti-inflammatory salad dressing.
Olive oil contains a chemical called oleocanthal, which has anti-inflammatory properties. In fact, some scientists believe that the abundance of olive oil in the Mediterranean diet is one of the main reasons it's such a successful and healthful way to eat.
So go ahead and enjoy your olive oil-based salad dressings guilt-free!
Avocado Oil
Another good option for an anti-inflammatory salad dressing is avocado oil.
Like olive oil, avocado oil is high in healthy monounsaturated fats, antioxidants, and anti-inflammatory compounds.
Avocado oil has a milder flavor than olive oil, so it's a good choice if you're looking for a light, refreshing dressing.
The Acids
Apple Cider Vinegar
Apple cider vinegar has been used for hundreds of years as a natural remedy for a wide range of ailments, including healing wounds and fighting infections. More recently, it has gained popularity for its purported anti-inflammatory properties.
This vinegar is said to help reduce inflammation throughout the body, including in the joints, muscles, and digestive system.
This vinegar contains acetic and propionic acid, which is thought to be responsible for its beneficial effects.
Lemon Juice
Not only does lemon juice add a tart and tangy flavor to your salad, but it also contains antioxidants that help fight inflammation.
Lemons are a great source of Vitamin C, which is an important nutrient for reducing oxidative stress and inflammation.
In addition, lemon juice also contains inflammation-busting flavonoids.
Adding Flavor
Ginger
Ginger is well known as a medicinal herb, and modern science is starting to back up claims of its efficacy.
Gingerol, the active compound in ginger, has been shown to reduce inflammation at the cellular level.
This means that ginger can help improve inflammatory problems throughout the body, making it an effective treatment for conditions like arthritis and Crohn's disease.
Turmeric
Turmeric is a spice that has been used in Indian cuisine for centuries, but it's also effective as a medicinal herb, thanks to its powerful anti-inflammatory effects.
Curcumin is the active ingredient in turmeric, and it works in the body by inhibiting the production of inflammatory enzymes.
In addition, curcumin also stimulates the production of the body's natural anti-inflammatory substances.
As a result, turmeric can be an effective natural treatment for many inflammatory conditions.
Shallots
The shallot is a type of onion commonly used in cooking. They have a milder flavor than onions, and they can be eaten raw or cooked.
A good source of nutrients, shallots contain vitamin C, vitamin B6, and high levels of quercetin, a flavonoid that has been proven to reduce inflammation.
Shallots are also a good source of allicin, which is an organosulfur compound also shown to have anti-inflammatory effects.
Garlic
Garlic's abilities to fight inflammation are the result of several different compounds that it contains, including allicin and ajoene.
Together, these compounds make garlic an excellent natural remedy.
Mustard
A popular condiment, mustard is also an ingredient in many dishes, but did you know that it also has anti-inflammatory properties?
The mustard seeds contain an oil called allyl isothiocyanate (AITC), another inflammation-fighting compound.
Honey
To make your salad dressing a little sweeter, try adding honey.
Like lemons, honey contains a class of compounds known as flavonoids, which have been shown to have anti-inflammatory effects.
In addition, honey has a wealth of other health benefits, including promoting the growth of healthy bacteria in the gut, which can help to prevent inflammation throughout the body.
Taken together, these properties make honey an effective natural remedy for inflammation.
Black Pepper
Beyond adding flavor to your salad dressings, black pepper contains piperine, which is another helpful ingredient for reducing inflammation.
What's more, freshly-ground black pepper also improves the body's absorption of curcumin, the active compound in turmeric.
Salt
Salt is only used to add flavor to the dressing and to balance out the acidity of the lemon juice or vinegar.
So, what are you waiting for?
These ingredients are just a few of the many that can help to reduce inflammation in the body. It's easy to start incorporating these healthy ingredients into your diet today!
How to Make Anti-Inflammatory Salad Dressings
It's easy!
In a Mason jar, add one part vinegar or lime juice, one part oil, and your choices of spices, salt, and black pepper. If you're using honey, you may need to warm it first to make it easier to mix.
Simply combine all of the ingredients in a jar or container and shake well. You could also use a bowl and a whisk, if you prefer.
Serve as a dressing for your anti-inflammatory salad.
Turmeric Anti-Inflammatory Salad Dressing
This salad dressing is not only delicious but it's also packed with anti-inflammatory ingredients. 
Print
Pin
Rate
Ingredients
1/2

cup

olive oil

1/4

cup

lemon juice

1

tsp

tumeric powder

1

tsp

ginger powder

1

Tbsp

honey

1

Tbsp

shallot

choppped finealy

Salt

Pepper
Instructions
In a Mason jar or other lidded container, combine all ingredients and shake well.
Nutrition
Calories:
175
kcal
|
Carbohydrates:
4
g
|
Protein:
0.1
g
|
Fat:
18
g
|
Saturated Fat:
3
g
|
Polyunsaturated Fat:
2
g
|
Monounsaturated Fat:
13
g
|
Sodium:
1
mg
|
Potassium:
31
mg
|
Fiber:
0.2
g
|
Sugar:
3
g
|
Vitamin A:
1
IU
|
Vitamin C:
4
mg
|
Calcium:
3
mg
|
Iron:
0.3
mg
Share on Facebook
Share by Email
References
Arreola R, Quintero-Fabián S, López-Roa RI, et al. Immunomodulation and anti-inflammatory effects of garlic compounds. Journal of Immunology Research. 2015;2015:1-13. doi:10.1155/2015/401630.
Aryaeian N, Tavakkoli H. Ginger and its effects on inflammatory diseases. Advances in Food Technology and Nutritional Sciences – Open Journal. 2015;1(4):97-101. doi:10.17140/aftnsoj-1-117.
Benavente-García O, Castillo J. Update on uses and properties of citrus flavonoids: New findings in anticancer, cardiovascular, and anti-inflammatory activity. Journal of Agricultural and Food Chemistry. 2008;56(15):6185-6205. doi:10.1021/jf8006568.
Garcia‐Berumen CI, Olmos‐Orizaba BE, Márquez‐Ramírez CA, et al. Avocado oil ameliorates non‐alcoholic fatty liver disease by down‐regulating inflammatory cytokines and improving mitochondrial dynamics. The FASEB Journal. 2019;33(S1). doi:10.1096/fasebj.2019.33.1_supplement.660.6.
Kaputk. Anti-inflammatory diet: What to eat (and avoid). Cleveland Clinic. https://health.clevelandclinic.org/anti-inflammatory-diet/. Published February 10, 2022. Accessed June 16, 2022.
Lucas L, Russell A, Keast R. Molecular mechanisms of inflammation. anti-inflammatory benefits of virgin olive oil and the phenolic compound oleocanthal. Current Pharmaceutical Design. 2011;17(8):754-768. doi:10.2174/138161211795428911.
Mohammadi-Motlagh H-R, Mostafaie A, Mansouri K. Anticancer and anti-inflammatory activities of shallot ( allium ascalonicum ) extract. Archives of Medical Science. 2011;1:38-44. doi:10.5114/aoms.2011.20602.
Escobar, S. Anti- inflammatory diet menu: All you need to know. Menopause Better. https://menopausebetter.com/anti-inflammatory-diet-menu/. Published April 22, 2022. Accessed June 16, 2022.
Wenli S, Mohamad HS, Qi C. The Insight and survey on medicinal properties and nutritive components of shallot. Journal of Medicinal Plants Research. 2019;13(18):452-457. doi:10.5897/jmpr2019.6836.
Dr. Su-Nui Escobar, a Registered Dietitian/Nutritionist in Miami, FL, is dedicated to empowering women in perimenopause and menopause to live healthier, more satisfying lives.
With a doctorate in clinical nutrition from the University of North Florida, she has expertise in menopause and weight loss, including the unique challenges faced by those on weight loss medications.
Su-Nui's passion for her field is evident in her previous role as the Academy of Nutrition and Dietetics spokesperson.