Anti-Inflammatory Avocado Smoothie Recipe
Are you looking for an easy way to add anti-inflammatory foods to your diet? Try this delicious anti-inflammatory avocado smoothie! It's nutritious, filling, and uses ingredients you often have in your kitchen.
Pair it with a handful of almonds and enjoy it early in the day. Breakfast smoothies are perfect for busy mornings.
It works well as a snack too.
Inflammation – Let's Talk About It
While acute inflammation is a natural response from your body to help you heal, chronic inflammation can increase your risk of – or worsen – many diseases.
Chronic inflammation is a common condition apparent in many diseases, including heart disease, Alzheimer's, asthma, arthritis, stroke, and cancer. It's also frequently seen in people who are obese or in menopause.
Eating processed foods, sugar, refined carbs, unhealthy fats, and alcohol can all cause chronic inflammation.
What's more, stress also releases hormones that can lead to inflammation.
Sugar and Inflammation
When it comes to smoothies, a frequent ingredient is sugar, either as an addition for extra flavor or in fruit juice. However, sugar can promote inflammation. Thus, it's important to be aware of the sugar content.
How Does Sugar Cause Inflammation?
Sugar stimulates the production of fatty acids in the liver. When the body digests these fatty acids, it results in byproducts that trigger inflammation.
Therefore, it's a good idea to limit the amount of sugar you put in your smoothie recipes.
One of the great things about smoothies is that there are plenty of ways to make them delicious without adding sugar!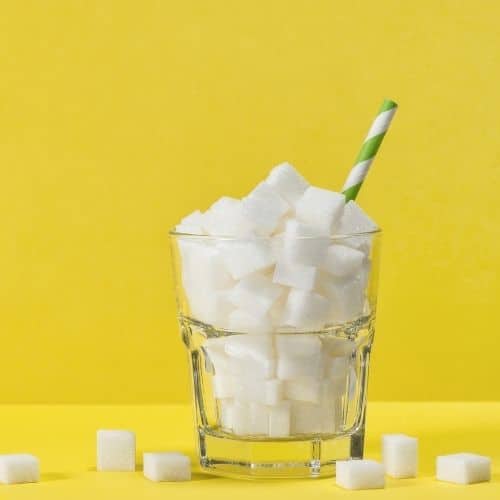 Do Artificial Sweeteners Cause Inflammation?
The answer to this one is a little complicated.
Studies have revealed conflicting results about the effects of artificial sweeteners on gut inflammation. Some studies suggest that artificial sweeteners could increase inflammation. Others, however, show no effect.
Because the research isn't conclusive, we recommend using them in moderation.
A great way to sweeten smoothies is to use fruits or more natural sweeteners, such as stevia.
What Are the Benefits of an Anti-Inflammatory Diet?
An anti-inflammatory diet has many benefits, including:
Reducing the risk of chronic diseases
Supporting heart health
Improving gut health
Improving rheumatoid arthritis
Promoting weight loss
Improving skin health
Boosting energy levels
Potentially improving blood glucose control
Improving energy and mood
Decreasing the risk of anxiety and depression
Read more about the anti-inflammatory diet in Anti-Inflammatory Diet Menu: All You Need to Know.
Smoothie Ingredients that Decrease Inflammation
Now that we've talked about what inflammation is and how affects the body let's talk about foods that can help reduce it.
Apples
Apples are an easy way to add a touch of sweetness to smoothies. This fruit fight inflammation by reducing oxidative stress, an imbalance between free radicals and antioxidants.
Furthermore, apples contain quercetin, which is an antioxidant that has anti-inflammatory effects.
Avocados
A good source of carotenoids and nutrients with powerful anti-inflammatory benefits.
It might sound like an unconventional food to add to smoothies, but they actually taste great! Avocados add creaminess and are a great source of healthy fats that can also help reduce inflammation. In addition to all that, they are high in fiber and vitamins E and C.
Berries
Berries are well known to fight inflammation because they are high in anthocyanins, which are powerful antioxidants. Additionally, berries are high in fiber.
Some of the best berries to add to smoothies are strawberries, raspberries, blackberries, and blueberries.
Chia Seeds
Chia seeds are a great source of fiber, omega-3 fatty acids, and antioxidants. These nutrients can help improve gut health and reduce inflammation.
Flax Seeds
Flax seeds contain lignans, a type of phytonutrient that has been shown to affect inflammation positively.
Ginger
The active compound in ginger is gingerol. This substance has been proven to have anti-inflammatory and analgesic effects.
Green Leafy Vegetables
Green leafy vegetables, such as spinach and kale, are rich in vitamin E, which decreases inflammatory markers. Adding a handful of dark leafy greens to a smoothie might sound strange, but believe it or not, it doesn't change the flavor and it adds a whole lot of benefit!
Lemons
Lemons are one of the most well-known sources of vitamin C. They also have many phytochemicals that can help with inflammation.
Turmeric
Turmeric is a spice that contains curcumin, which has anti-inflammatory properties. But adding turmeric to your smoothie can also help improve your health in other ways, as it's proven to offer robust benefits to your heart, brain and even to help prevent cancer.
Make all of these inflammation-fighting foods part of a well-balanced diet.
Can Bananas Cause Inflammation?
There is some controversy surrounding bananas and their effect on inflammation.
Some people believe that because bananas are high in sugar, they can cause inflammation. However, there is no scientific evidence to support this claim.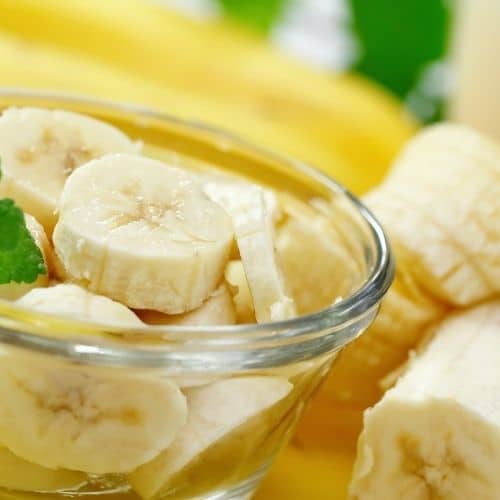 Bananas are high in fiber, meaning that the natural sugars have a slow absorption in the body and don't cause the same blood sugar spikes that added sugar does.
Furthermore, bananas are a good source of vitamin C and the B vitamins, which both help to
Not only do bananas not promote inflammation, but in fact, the nutrients in bananas have anti-inflammatory properties.
Bananas are a great way to add sweetness to your smoothie if you love the sweet taste of fruit. But if you want a lower sugar content, you can use berries or apples instead.
Keep in mind, though, that berries and apples might not sweeten the smoothie enough for a pleasant taste. Some people opt to add stevia or artificial sweeteners to their smoothies.
Why Use a Plant-Based Milk Alternative?
Some people, including a few healthcare experts, believe that dairy causes inflammation.
However, while dairy products can cause problems in people who are intolerant or allergic, this might not be true in otherwise healthy individuals.
For anti-inflammatory smoothie recipes, my professional and personal practice is to use dairy-free alternatives to milk, such as almond milk, cashew milk, or coconut milk (from the refrigerator section). Another option is to use coconut water.
These are all great options if you're looking for a dairy-free and vegan smoothie option.
Some Final Thoughts
Keep in mind that smoothies are very versatile and easy to adjust to your personal taste. If you don't like a certain ingredient, feel free to leave it out or add more of something you do like.
There are endless possibilities when it comes to smoothie recipes. I hope you enjoy this anti-inflammatory avocado smoothie recipe.
More About Anti-Inflammatory Diets
If you want to learn more about anti-inflammatory diets, check out these great resources:
"Anti-Inflammatory Avocado Smoothie Recipe" was written by Su-Nui Escobar, DCN, RDN, FAND, and Registered Dietitian Irene Mejia.
Creamy Avocado Smoothie [Anti-Inflammatory]
This healthy drink is rich in healthy fats, vitamins, minerals, and antioxidants that help reduce inflammation. The best part is that it tastes great!
Print
Pin
Rate
Ingredients
¼

avocado

½

frozen banana

½

cup

spinach

1

cup

cashew milk

you can substitute with your favorite plant-based milk alternative

¼

teaspoon

cinnamon

¼

teaspoon

vanilla extract
Instructions
Simply add all ingredients into a blender and blend until smooth! Using a high-speed blender can make a smoother drink.
Notes
Optional toppings: chia seeds or sliced almonds to your avocado smoothie.
Freezing sliced-up ripe bananas is a great way to reduce food waste, and adding frozen fruits to smoothies tastes better than adding ice cubes.
Nutrition
Serving:
1
serving
|
Calories:
166
kcal
|
Carbohydrates:
20
g
|
Protein:
2
g
|
Fat:
10
g
|
Saturated Fat:
1
g
|
Polyunsaturated Fat:
1
g
|
Monounsaturated Fat:
6
g
|
Sodium:
176
mg
|
Potassium:
542
mg
|
Fiber:
6
g
|
Sugar:
8
g
|
Vitamin A:
1519
IU
|
Vitamin C:
14
mg
|
Calcium:
29
mg
|
Iron:
1
mg
Share on Facebook
Share by Email
Dr. Su-Nui Escobar, a Registered Dietitian/Nutritionist in Miami, FL, is dedicated to empowering women in perimenopause and menopause to live healthier, more satisfying lives.
With a doctorate in clinical nutrition from the University of North Florida, she has expertise in menopause and weight loss, including the unique challenges faced by those on weight loss medications.
Su-Nui's passion for her field is evident in her previous role as the Academy of Nutrition and Dietetics spokesperson.