Banana Peel Tea Recipe: Delicious and Beneficial
Tea is one of the most popular beverages in the world – and for a good reason! It's delicious, versatile, and packed with health benefits. But there's one type of tea that you may not be familiar with: banana peel tea.
This unique drink is loaded with antioxidants and has many potential health benefits, including properties to promote a good night's sleep.
In this article, we'll provide a recipe for banana peel tea so that you can start enjoying its benefits today.
What is Banana Peel Tea?
This tea is made by steeping banana peels in hot water. It might sound strange, but trust us, it's good! This type of tea is gaining popularity due to its many health benefits.
Banana peel tea can be made from fresh or dried banana peels or by using the whole banana. If you're using fresh banana peels, make sure to wash them thoroughly before peeling. It's a good idea to use organic bananas if you're concerned about pesticides.
Using banana peel as a cooking ingredient is common in Southeast Asia, India, and Venezuela. However, in the last few years, social media and television have put banana peels in the spotlight in the west too.
How Does Banana Skin Tea Taste?
This tea has a sweet and slightly floral flavor, similar to black tea. The specific taste will depend on the type of banana you use. For example, if you use a ripe banana, your tea will be sweeter than if you use a green one.
You can also add other ingredients to your tea to enhance its flavor. For example, some people like to add honey, lemon, cinnamon, or ginger. You can also add milk or cream if you want a richer beverage.
Nutrients in Banana Tea
Banana peel tea is a relatively new drink, so there is limited research on its health benefits.
However, because it uses bananas, it's likely that it contains at least some of the same nutrients, including vitamins A, B, C, and E and tryptophan, potassium, and magnesium.
However, because it's an infusion rather than the whole fruit, it will not contain nutrients in the same amount, but be aware that this is an assumption that is not scientifically proven.
What are the Benefits?
In addition to containing vitamins and minerals, banana peels are also rich in antioxidants, which protect your cells from damage, reduce inflammation, and can even help to prevent certain diseases.
This beverage also has the potential to boost your immune system. This is due to the fact that it contains vitamins C and E, which are both essential for a healthy immune system.
It is also possible that banana skin tea can help you sleep better, and the potassium in the tea may prevent bloating and heart disease.
We don't have enough scientific evidence to know for sure what this tea can do for our health. However, it's a safe and delicious drink with many potential benefits.
If you don't like it, you can always use it for your plants, as banana peels and the tea made from them make excellent fertilizer!
Banana Peel Tea for Sleep
It's believed that drinking this tea before bed can help you fall asleep faster and stay asleep longer.
The potassium and magnesium in banana peel tea can help to relax your muscles and promote a restful night's sleep.
Bananas are a natural source of tryptophan, a precursor of melatonin and serotonin, the hormones that help regulate your sleep cycle.
This drink may also contain vitamin B6. A deficiency of this vitamin may worsen depression and anxiety, interfering with quality sleep.
If you're drinking banana peel tea for a restful sleep, dim your lights and turn off your electronics to prepare both your room and your mind for sleeping. After all, a good night's sleep is the key to health and happiness.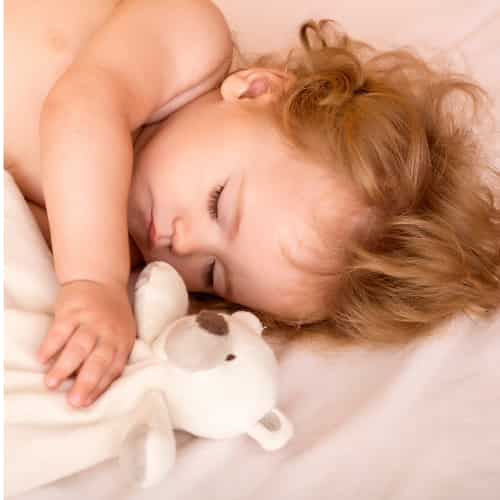 Other Foods Made with Banana Peels
Banana peels are one of the latest trends in the culinary world.
While tea made from the skin of a banana is gaining popularity for its health benefits, it's not the only way to consume this ingredient. In fact, there are many delicious ways that make use of this often-discarded byproduct of bananas.
Forbes has an interesting post about different ways to eat banana peels; for example, as vegan meat. You can also use banana peels as a substitute for bacon, crispy snacks, rum, flour, bread, and many more items.
But let's focus on banana peel tea.
Can You Buy Banana Peel Tea?
Yes, it is readily available in many retail stores and online, if you'd rather not make it yourself.
Recipe Variations
There are different ways to prepare banana peel tea. One uses the whole banana (including the pulp), another uses fresh peels, and the last makes use of dehydrated bananas.
Below, you will find a tea recipe using fresh banana peels. However, to use dehydrated peels instead, you can follow the same recipe but use a colander to remove the banana before drinking the liquid.
To use the whole banana, follow the same recipe but instead of using the peels, trim the end of the banana, cut the rest into chunks, and add them to the boiling water.
You can also add cinnamon, cloves, or ginger to the tea while it is boiling for a more flavorful drink or for their additional health benefits.
The next time you have some bananas, don't throw out the peels! Give banana peel tea a try, and let us know what you think. We bet you'll be pleasantly surprised by this unusual, delicious, and beneficial drink.
Benefits of Using Banana Peel vs Whole Banana
There is no evidence that one is better than the other. Both have benefits and can be used interchangeably.
However, if you use the peel only, you can freeze the banana and use it for smoothies later. Zero-waste cooking!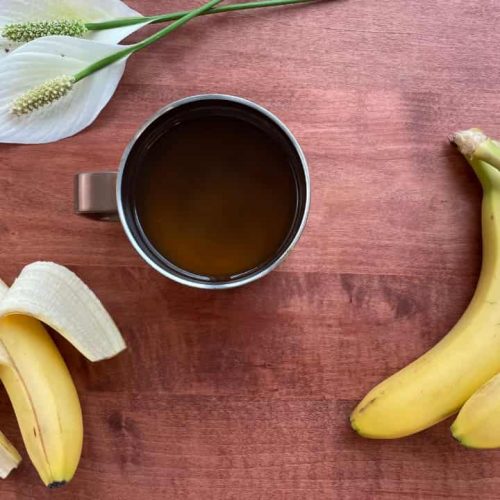 Banana Peel Tea Recipe
Banana peel tea might sound strange, but it's actually quite delicious with a sweet and slightly floral flavor. The magnesium, potassium, and tryptophan believed to be available in this beverage can help you have a good night's sleep.
Print
Pin
Rate
Ingredients
1

banana peel

ends trimmed off (or 2 tablespoons dried banana)

2

cups

of water

1/2

cinnamon stick

optional

1/4

lemon

optional
Instructions
Wash the banana peel thoroughly then place it in a pot of boiling water. Add cinnamon stick (optional).

Bring the water to boil, then lower the heat and let the drink simmer for about 10 minutes.

Remove the banana peel and cinnamon. Serve.

Enjoy your delicious and healthy cup of banana peel tea!
Notes
You can also use dry banana peels or whole bananas cut in chunks for this recipe (do not remove the skin!) 
Nutrition
Serving:
1
cup
|
Calories:
6
kcal
|
Carbohydrates:
2
g
|
Protein:
1
g
|
Fat:
1
g
|
Saturated Fat:
1
g
|
Polyunsaturated Fat:
1
g
|
Sodium:
1
mg
|
Potassium:
22
mg
|
Fiber:
1
g
|
Sugar:
1
g
|
Vitamin A:
6
IU
|
Vitamin C:
7
mg
|
Calcium:
12
mg
|
Iron:
1
mg
Share on Facebook
Share by Email
References
Assessment of the potential role of tryptophan as the … – sage journals. https://journals.sagepub.com/doi/10.4137/IJTR.S1129. Accessed May 28, 2022.
Banana peel. Wikipedia. https://en.wikipedia.org/wiki/Banana_peel. Published April 24, 2022. Accessed May 29, 2022.
Bevan K, Jj. The best banana peel bacon. The Daily Dish. https://dailydish.co.uk/the-best-banana-peel-bacon/. Published February 22, 2022. Accessed May 28, 2022.
Ewing-Chow D. Banana peel cuisine is the latest plant-based trend. Forbes. https://www.forbes.com/sites/daphneewingchow/2022/03/31/banana-peels-have-found-mass-a-peel-in-food-and-drink/?sh=540612345b55. Published April 4, 2022. Accessed May 28, 2022.
Ewing-Chow D. Banana peel cuisine is the latest plant-based trend. Forbes. https://www.forbes.com/sites/daphneewingchow/2022/03/31/banana-peels-have-found-mass-a-peel-in-food-and-drink/?sh=6ea0c8d65b55. Published April 4, 2022. Accessed May 28, 2022.
González-Montelongo R, Gloria Lobo M, González M. Antioxidant activity in banana peel extracts: Testing extraction conditions and related bioactive compounds. Food Chemistry. 2010;119(3):1030-1039. doi:10.1016/j.foodchem.2009.08.012Meyer K. Eat to Sleep: What to Eat and When to Eat It for a Good Night's Sleep–Every Night. New York: Adams Media; 2019.
Dr. Su-Nui Escobar, a Registered Dietitian/Nutritionist in Miami, FL, is dedicated to empowering women in perimenopause and menopause to live healthier, more satisfying lives.
With a doctorate in clinical nutrition from the University of North Florida, she has expertise in menopause and weight loss, including the unique challenges faced by those on weight loss medications.
Su-Nui's passion for her field is evident in her previous role as the Academy of Nutrition and Dietetics spokesperson.