Celery Smoothie: A Refreshing Anti-Inflammatory Drink
Many people love the taste of celery as part of a dish but are reluctant to drink celery smoothies or juice.
But the taste of celery in a drink can be quite refreshing, and it is, in fact, quite healthy. That's why drinking celery juice has become one of the hottest nutrition trends.
Why make a smoothie instead of juice? The answer is simple: for the additional fiber with all its benefits.
Here's why you will love this celery smoothie
It's made with anti-inflammatory ingredients, which will help prevent diseases such as heart disease, cancer, and arthritis!
It's full of fiber. Compared to juices, smoothies are a better choice when you're looking to add fiber to your diet.
It's very refreshing, thanks to the celery, green apples, and ginger.
It's full of vitamins and minerals.
The most important reason why you will love this smoothie is that it tastes great!
Ingredients
The ingredients of this smoothie were carefully selected to provide many health benefits and an appealing flavor.
Celery and Green Apple
Delicious, crispy, and refreshing!
Health Benefits
Celery and green apple both have antioxidants and anti-inflammatory properties that help prevent and fight disease.
What's more, both of these ingredients contain Vitamin K, which is important for blood and bone health.
The high fiber content in both is also great for keeping you feeling full and improving your metabolism.
Flavor and Consistency
Green smoothies can sometimes lack variety in their flavors. However, the combination of celery and green apple provides a sweet and crisp taste to this smoothie.
When blended together, these ingredients release bright flavor through their juices without compromising their fiber content.
Don't be intimidated by the texture of these fibrous greens. Plant cell walls contain cellulose, which is what may sometimes cause a grainy texture. But this is also what contains the nutrients that make these ingredients beneficial. It's all a matter of adjusting your perspective!
If the texture is still an issue, a little extra blending or water can help you reach the smoothie consistency of your liking.
Baby Spinach
Sweeter and more tender than regular spinach.
Health Benefits
Why is spinach considered a superfood? Among other great benefits, spinach contains a component called lutein that reduces inflammation.
Lutein is also great for your eye health. Specifically, this nutrient helps with declining eyesight related to age.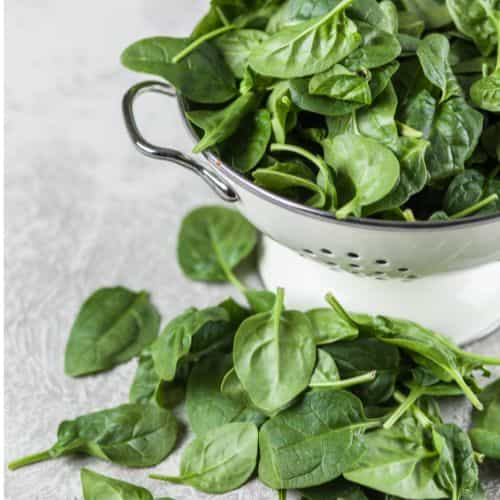 Moreover, this delicious green is a powerhouse of nutrients, including iron, calcium, and vitamins C, E, K, and A.
Flavor and Consistency
Baby spinach is harvested earlier than regular spinach. Its leaves are more tender, and some say it has a sweeter, less bitter flavor than mature spinach.
Banana
Health Benefits
While bananas might sometimes get a bad rap, they don't cause a high spike in blood sugar. But their delicious flavor acts as a natural sweetener in this recipe.
Bananas are high in potassium, which regulates electrolyte and fluid balance and helps maintain heart health. They also contain fiber-bloat-fighting bacteria for gut health.
The nutrients in bananas can help fuel your next workout and sustain your energy for several hours.
Flavor and Consistency
If you use ripe bananas, you will have a sweeter smoothie. But if you're looking for a boost to gut health, green bananas can be more beneficial.
Using frozen bananas will change the flavor and consistency of your smoothie, making it creamier and even more refreshing.
Ginger
Health Benefits
Ginger is a popular spice that has many advantages. It contains over 400 naturally occurring compounds that help reduce inflammation.
It also has antioxidant properties, which prevent stress and damage to DNA and protect against various types of cancer.
Ginger also works in the GI tract to ease nausea by aiding digestion.
Flavor and Consistency
Ginger will also add a slight kick of spice and sweetness to enhance the refreshing taste of this smoothie.
As you can see, this smoothie is packed with a number of nutrients while remaining low in calories.
FAQs
How can I add more protein to my smoothie?
There are many ways to increase the amount of protein in a smoothie.
You can add ½ cup of low-fat or non-fat Greek yogurt. Alternatively, you can add one scoop of your preferred protein powder.
How do you peel ginger?
The trick to peeling ginger easily is to use a spoon. This makes it easier to get into the grooves and uneven sections of the ginger. You can easily scrape off the skin by using the edge of the spoon and slowly scraping in long strokes.
For sections that are tougher to peel, you can use a small knife to cut off any additional pieces of skin, especially within the grooves of the ginger.
You can also peel ginger with a small, sharp knife.
Check out this video to see how to peel ginger.
Can I use red apples instead of green apples?
Yes! Red and green apples share almost all the same health benefits. For this recipe, green apple is used to provide a tartness to the flavor of the smoothie.
However, if you prefer a sweeter flavor, or if red apples are easier to find near you, then they're also great.
Either way, adding apples delivers a crisp, refreshing taste which can help quench your thirst.
How to Make a Celery Smoothie
Celery Smoothie
This celery smoothie recipe contains several different anti-inflammatory ingredients, which will help boost immunity and prevent diseases such as heart disease, cancer, and arthritis.
Print
Pin
Rate
Equipment
Knife and cutting board

Spoon

High spped blender
Ingredients
2

stalks of celery

or ½-¾ cup

½

large green apple

1

teaspoon

ginger

1

cup

baby spinach

1

medium banana

fresh or frozen

½

cup

water

½

cup

ice

if desired
Instructions
Begin by rinsing celery stalks and chopping them into ½-inch pieces.

Wash the apple and remove the core. Dice into small pieces.

Peel a small section of ginger (about a 1-inch cube) and cut it into very thin slices. Cut slices into thin sticks, then dice sticks into smaller pieces. Alternatively, use a grater to grate the ginger. Measure out 1 teaspoon.

Rinse the spinach with cold water and roughly chop.

Cut the banana into two pieces for easier blending.

Place all prepared ingredients in a blender with water (and ice, if desired). Blend on medium to high speed for 1 to 2 minutes or until the consistency is smooth.

Serve in a chilled glass, and enjoy!
Nutrition
Serving:
1
g
|
Calories:
162
kcal
|
Carbohydrates:
41
g
|
Protein:
2
g
|
Fat:
1
g
|
Saturated Fat:
0.2
g
|
Polyunsaturated Fat:
0.2
g
|
Monounsaturated Fat:
0.1
g
|
Sodium:
44
mg
|
Potassium:
716
mg
|
Fiber:
6
g
|
Sugar:
24
g
|
Vitamin A:
2974
IU
|
Vitamin C:
23
mg
|
Calcium:
52
mg
|
Iron:
1
mg
Share on Facebook
Share by Email
*For full transparency, as a Tastemaker affiliate, at no cost to you, I may earn a commission of some of the items you choose to buy.
The Bottom Line- Change
This celery smoothie is a great way to start your day or as a snack in between meals. It's packed with antioxidants, anti-inflammatories, and vitamins that will help boost your immune system and prevent diseases.
The ginger gives it a slight kick of spice, while the apple provides both sweetness and tartness. If you're looking for a healthy drink that tastes great, too, then give this recipe a try!
Liked this smoothie, try other smoothies in our "powerful kale smoothie for weight loss."
"Celery smoothie" was written by soon-to-be Registered Dietitian Michelle Sunga and edited by Dr. Su-Nui Escobar, DCN, RDN, FAND.
Dr. Su-Nui Escobar, a Registered Dietitian/Nutritionist in Miami, FL, is dedicated to empowering women in perimenopause and menopause to live healthier, more satisfying lives.
With a doctorate in clinical nutrition from the University of North Florida, she has expertise in menopause and weight loss, including the unique challenges faced by those on weight loss medications.
Su-Nui's passion for her field is evident in her previous role as the Academy of Nutrition and Dietetics spokesperson.