Golden Milk Recipe for Sleep [Dietitian Approved]
Getting restful sleep is key to good health and happiness. Yet, it can be difficult to get the sleep we need.
If you find yourself tossing and turning at night, this soothing beverage might be perfect for you.
Golden milk has been used for centuries as a natural remedy to promote better sleep. This delicious drink is made with turmeric, ginger, and black pepper—all of which have been shown to help improve sleep quality.
In this blog post, we will share our favorite golden milk recipe for sleep.
Ingredients
The ingredients used in this recipe for golden milk have been carefully chosen to help promote improved sleep.
Turmeric
This herbal medicine has long been used by many cultures for its healing properties.
Turmeric contains curcumin, which can improve overall sleep quality by helping you fall asleep faster and stay asleep longer.
Beyond that, turmeric can also reduce inflammation, which may help relieve pain and enable a more restful night's sleep.
Almond Milk 
You are probably aware of how melatonin can help you sleep. What you might not know is that melatonin is naturally found in almonds.
In addition, almonds have other sleep-promoting hormones and minerals, such as tryptophan and magnesium.
Because almond milk is made from whole almonds, it's likely to have the same sleep-promoting benefits.
Cinnamon
Cinnamon is a powerful spice with many potential health benefits. It has been used for centuries in traditional medicine.
More recently, studies suggest that cinnamon may have anti-inflammatory properties as well as antioxidant effects.
Studies also indicate that cinnamon could be beneficial for people with type 2 diabetes by helping to lower blood sugar levels and improve insulin sensitivity.
Furthermore, cinnamon may have mental health benefits, like improved cognitive performance and better mood regulation.
Ginger
A highly nutritious and versatile root that is rich in antioxidants. It can be used to help improve digestion, reduce inflammation, alleviate nausea, and even fight off infections.
By helping address these issues, ginger can enable you to rest comfortably.
Coconut Oil
Coconuts contain a multitude of advantages for good health, making it a powerful superfood.
Coconut oil contains MCT oil, which makes it very satiating. Satiety can help curb sleep disturbances, enabling you to rest peacefully.
Beyond helping you achieve the rest you need, coconut oil is beneficial for many other reasons, too; it has been linked to fat burning, improved immunity, and management of Alzheimer's disease.
FAQ
What ingredients should be avoided to promote sleep?
The most important ingredient to avoid before bedtime is sugar.
Sugar before bed can disrupt the quality of your sleep. Conversely, poor sleep quality increases sugar cravings and intake.
This leads to a harmful cycle of poor sleeping habits and high sugar cravings.
Can I use fresh turmeric?
You can use fresh turmeric root in place of turmeric powder if desired.
Use one inch of turmeric root in place of one teaspoon of powder. Proceed with the same directions listed below.
How do I store my golden milk?
This drink keeps well if you want to enjoy it throughout the week.
If you choose to prepare a larger batch, you may refrigerate it up to three days.
Be sure to store it in an airtight container to preserve its freshness.
Can I drink golden milk cold?
We recommend enjoying golden milk warm for a more soothing and fragrant experience.
Furthermore, the spices in golden milk are activated more effectively when heated. For instance, turmeric demonstrates better anti-inflammatory properties when warm.
How do I reheat my golden milk?
Reheating is simple when you're ready to indulge in another glass.
Simply add to a pot on low heat. Stir to recombine the ingredients until the desired temperature is reached.
Can I drink golden milk every day?
Golden milk can be safely enjoyed by most users daily, as long as it's in moderate amounts.
Despite turmeric's many health benefits, overconsumption can cause an upset stomach. The active ingredient in turmeric, curcumin, can cause digestive issues when consumed in excess.
To judge a reasonable amount, the World Health Organization advises that 1.4 mg of curcumin per pound of body weight can be safely consumed daily.
What is the best time to drink golden milk?
To improve sleep, consume golden milk about an hour before bedtime. Its soothing properties will help you relax and sleep peacefully.
Can I use dairy milk?
Dairy milk is rich in tryptophan as well as calcium, both of which are linked to restful sleep. Milk also contains magnesium, which promotes relaxation.
Warm milk has traditionally been used before bed for a restful sleep.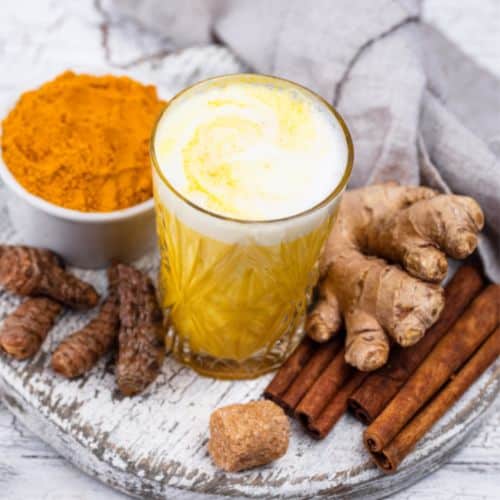 Golden Milk Recipe for Sleep
In need of extra rest? This golden milk recipe for sleep is packed with ingredients that will have you snoozing in no time. This warm beverage is soothing and packed with ingredients to promote good rest and health.
Print
Pin
Rate
Ingredients
1½

cups

Almond milk

1

tsp

Coconut oil

1

tsp

Turmeric powder

½

tsp

Cinnamon powder

¼

tsp

Ginger powder

½

tbsp

Maple syrup

optional

½

tsp

Vanilla extract
Instructions
In a small saucepan, heat almond milk on medium-low heat until warm.

Add all ingredients to the almond milk and whisk until well combined.

Serve in a mug and enjoy!
Nutrition
Calories:
130
kcal
|
Carbohydrates:
11
g
|
Protein:
2
g
|
Fat:
9
g
|
Saturated Fat:
3
g
|
Polyunsaturated Fat:
2
g
|
Monounsaturated Fat:
3
g
|
Sodium:
490
mg
|
Potassium:
87
mg
|
Fiber:
2
g
|
Sugar:
7
g
|
Vitamin A:
3
IU
|
Vitamin C:
1
mg
|
Calcium:
475
mg
|
Iron:
1
mg
Share on Facebook
Share by Email
The Bottom Line
Golden milk is a great natural remedy for getting better sleep. It's filled with sleep-promoting nutrients, including tryptophan, melatonin, magnesium, and calcium.
This warm, delicious drink is the perfect end to a busy day. Beyond the sleep-boosting nutritional qualities, sitting down with a cup of warm golden milk can help you unwind.
So, turn off all electronics, dim the lights, and enjoy a tasty cup of golden milk for improved sleep.
"Golden milk recipe for sleep" was written by soon-to-be Registered Dietitian Olivia Luken and edited by Dr. Su-Nui Escobar, DCN, RDN, FAND.
Dr. Su-Nui Escobar, a Registered Dietitian/Nutritionist in Miami, FL, is dedicated to empowering women in perimenopause and menopause to live healthier, more satisfying lives.
With a doctorate in clinical nutrition from the University of North Florida, she has expertise in menopause and weight loss, including the unique challenges faced by those on weight loss medications.
Su-Nui's passion for her field is evident in her previous role as the Academy of Nutrition and Dietetics spokesperson.