11 Healthy Rice Alternatives According to a Dietitian
Are you looking for healthy alternatives to rice? Look no further!
Rice is a staple in many diets, but it doesn't have to be the only option. There are plenty of delicious and nutritious food choices you can make as an alternative to rice.
From quinoa to shirataki rice, these alternatives offer a tasty and healthier option for your meals. They provide more fiber, protein, vitamins, and minerals than white rice. At the same time, they still give you that same comfort food feeling when served alongside your favorite dishes.
Keep in mind that nothing is going to taste exactly like rice. So, it's important to be open to new flavors. Some have an acquired taste, others you will love right away.
Whole Grain Alternatives
Quinoa
Quinoa is a nutritious, versatile grain full of vitamins, minerals, and antioxidants.
Nutrition
Quinoa is a wonderful source of plant-based protein with all nine essential amino acids. It's high in magnesium and phosphorus—important minerals for both energy and bone health.
Taste
Quinoa has a mild nutty taste that most people find goes seamlessly with many foods. It works well with most recipes that call for rice.
Quinoa is slightly nuttier and chewier than rice. In fact, in terms of flavor and texture, it's much closer to brown rice than white. But once you get used to the taste, you will enjoy it.
Cooking
Quinoa takes less time to cook than rice. But the cooking technique is otherwise the same; two parts of water for each part of quinoa.
Try this quinoa fried rice. The name is a little confusing, but it's tasty and gives you cooking tips for quinoa.
Millet
Millet is not only a versatile rice alternative, but it also has an abundance of nutrients.
Nutrition
Millet contains vitamins and minerals, such as phosphorus, manganese, and magnesium. This grain is rich in dietary fiber, which can help improve satiety levels as well as assist in weight management.
Millet is a gluten-free carbohydrate source. It's known to be a lower-allergenic grain, making it safe for many people to consume.
Gluten-free products are beneficial for people with gluten sensitivity or for those following a gluten-free diet.
Taste
Millet has a mild nutty flavor, like quinoa. Because the taste of millet is not overpowering, it can be used in a variety of dishes and complement a wide range of flavors.
Cooking
To cook millet, simply use one cup of millet to two cups of water or broth and simmer for 20-25 minutes. Allow it to rest for a few minutes then fluff it with a fork before serving.
If you're interested in experimenting with millet, here is a flavorful lemony herbed millet to try!
Barley
Barley is a versatile grain with a range of nutrients that can be used in a wide variety of dishes, for example, soups, salads, risotto, and stir-fries, to name a few.
Nutrition
Barley has fiber, vitamins, minerals, and antioxidants. It has a low glycemic index (GI) rating, meaning it causes a slower increase in blood sugar compared to refined grains like white rice.
Taste
Barley has a mild, nutty flavor with hints of sweetness. It's slightly chewy in texture and pairs well with savory dishes as well as sweet recipes.
Barley also has the ability to absorb flavors and spices, making it incredibly versatile when paired with other ingredients.
Cooking
To cook barley, use one cup of barley to three cups of water or broth. Simply bring it to a boil, then reduce the heat and simmer for about 45 minutes to an hour. Let it cool for a few minutes prior to serving.
Here are 24 barley recipes to cook and enjoy!
Buckwheat
In spite of the name, buckwheat does not contain wheat; it's actually a naturally gluten-free grain-like seed.
Buckwheat can be used in many main and side dishes, such as salads, stir-fries, and porridge.
Nutrition
Buckwheat is rich in magnesium, copper, vitamins, and antioxidants and contains more fiber than rice.
Taste
Buckwheat has a unique, earthy flavor with hints of sweetness. It has a crunchy texture when cooked. Buckwheat is another versatile alternative to rice because it can absorb the flavors of whatever it's cooked with.
Cooking
To cook buckwheat, use 1 cup of buckwheat to 2 cups of water or broth. Bring it to a boil, reduce the heat, and simmer for about 10-15 minutes. Let it cool for a few minutes prior to fluffing with a fork. Serve and enjoy!
A pro tip for buckwheat: rinse it well before using it for cooking to remove any bitter flavor.
Love eating stir-fry with rice? Try this recipe using buckwheat stir-fry with vegetables.
Bulgur
Bulgur is a whole grain commonly used in many dishes because the taste is subtle.
Nutrition
Bulgur is rich in fiber, full of vitamins and minerals, and is an excellent source of plant-based protein.
Taste
Bulgur has a nutty and earthy flavor profile with subtle hints of sweetness. It has a light, chewy texture when cooked that pairs well with other ingredients in a dish.
Bulgur is another versatile choice; it absorbs the flavors of what it is cooked with. This makes it perfect for adding complexity and depth to dishes.
Cooking
For best cooking results, use one cup of bulgur to two cups of water or broth and bring to a boil. Reduce the heat, cover, and simmer for around 15 minutes or until the liquid is fully absorbed. Make sure the bulgur is tender before removing it from the heat. Serve and enjoy!
A pro tip for bulgur: after cooking, allow it to sit covered for 5-10 minutes before fluffing with a fork. This will help it absorb all of the flavors.
Love black beans and rice? Try this Mexican black bean and bulgur bowl.
Spelt
Spelt is an ancient grain that can be used instead of rice in many recipes.
Nutrition
It's packed with fiber, vitamins, and minerals. It's also a great source of complex carbs, which can help keep you full and energetic throughout your busy day.
Taste
Spelt has a mildly nutty flavor and chewier texture in comparison to rice.
Cooking
Use one cup of spelt to two-and-a-half cups of water or broth. Bring to a boil, then reduce the heat to low. Cover the pot and let it simmer until the liquid is absorbed, which usually takes an hour.
Teff
In Ethiopia, teff is a widely popular gluten-free grain that is commonly used as a staple food.
Teff is normally used as a side dish, the same way rice would be used. However, it's also an ingredient in bread and baked goods. Teff is used to make the famous Ethiopian bread, injera.
Nutrition
This food contains beneficial amounts of iron, calcium, zinc, niacin, thiamin, dietary fiber, protein, and essential amino acids.
Teff is a low-GI food in comparison to white rice. For that reason, it can better help to control blood sugar and energy levels.
Taste
Teff has a nutty, subtly sweet flavor often described as being similar to whole wheat and hazelnut.
Because it has such a versatile taste, Teff can be used in savory as well as sweet dishes.
Cooking
Teff is normally cooked in a 1:3 ratio of teff to water. It cooks similar to rice.
Vegetable-Based Alternatives
Cauliflower Rice
Cauliflower rice has become popular in recent years. It's a healthier alternative to white rice because it's low in carbs and calories. Moreover, it has a neutral flavor.
Nutrition
Cauliflower is an anti-inflammatory, non-starchy vegetable. It's full of fiber, antioxidants, and vitamins.
Cauliflower rice has become widely popular in the last few years. It can be used to make fried rice, stir-fries, sushi, and warm bowls.
Taste
Cauliflower rice has a mild nutty flavor. It resembles rice, except it has more of a cruciferous vegetable taste.
Cooking
Make cauliflower rice by grating raw cauliflower florets or pulsing them in a food processor to achieve an appropriate texture. To cook it, simply heat a pan with olive oil, butter, or cooking spray. Add the cauliflower rice with seasoning, and cook for about 5-10 minutes until it reaches the desired consistency.
It's important to note that while cauliflower has a mild flavor, the way it is cooked highly affects the texture. If you are someone that likes a softer grain, make sure to cook the cauliflower rice a little longer!
Here are seven cauliflower rice recipes to spice up your plate without the extra carbs and calories!
Broccoli Rice
Tired of cauliflower rice? Try broccoli rice instead!
Broccoli rice is yet another vegetable-based substitute that can be used in a wide variety of ways in meals.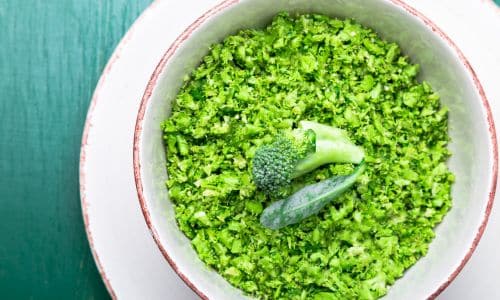 Nutrition
Broccoli rice is low-carb, low-calorie, and high in calcium, iron, potassium, and niacin.
Taste
Its taste is more subtle than your typical broccoli florets, which makes it very easy to combine with other ingredients.
Cooking
You can make your own or purchase broccoli rice. It's available in stores in the frozen and the produce section. If you use store-bought broccoli rice, you don't have to do anything other than follow the instructions on the package.
To make your own true homemade broccoli rice, take the florets off of one head of broccoli and grind them in a food processor until they are broken down into small pieces like grains of rice.
Cook this type of rice in a skillet using olive oil, avocado oil, butter, or cooking spray for about 5-7 minutes.
Here is an easy broccoli rice recipe that you can make and incorporate into your favorite tacos, stir-fries and more!
Riced Cabbage
Riced cabbage is similar to cauliflower rice. It can be used very easily as an alternative by sauteing, steaming, boiling, or stir-frying it.
Nutrition
Cabbage is full of nutrients, such as vitamin C and vitamin K, and it's high in fiber too.
Taste
Riced cabbage has a mild flavor. It can have a crunchy texture, making it an excellent addition to any side dish.
Cooking
To cook riced cabbage, saute it in a pan with healthy oil for a few minutes until your preferred consistency is reached.
If you're a curry lover, here is a curry cabbage rice recipe you won't want to miss.
If you are more of a Mexican taste fan, look no further—this Mexican cabbage rice is the one for you!
Other Alternatives
Shirataki Rice
Shirataki noodles are a gluten-free, low-calorie, low-carb alternative to rice and pasta dishes. They originate from the root of the konjac plant, which has soluble fiber.
Here is a shirataki rice recipe for you.
Nutrition
Shirataki is low-carb, low-calorie, and has an excellent amount of soluble fiber. Soluble fiber can be helpful in feeling full and satisfied and also has prebiotic qualities.
Taste
Shirataki noodles don't have a strong taste on their own; they are quite neutral and have a gelatinous consistency.
Cooking
Shirataki is super easy to cook, although it does require a pre-rinse before cooking to remove odor.
Simply follow the package instructions.
The Bottom Line
There is clearly a plethora of healthy rice alternatives that are delicious and exciting.
Rice is still a great option if you enjoy it. However, incorporating other types of carbohydrates can bring a variety of nutrients, colors, and textures to your plate. It's worth experimenting with rice alternatives to diversify your diet.
Now that you have so much valuable information on how to enhance your plate with healthy rice alternatives, it's time to get cooking!
Enjoy!
This blog post was written by soon-to-be registered dietitian Talia Ciklik and edited by Dr. Su-Nui Escobar, DCN, RDN, FAND.
Dr. Su-Nui Escobar, a Registered Dietitian/Nutritionist in Miami, FL, is dedicated to empowering women in perimenopause and menopause to live healthier, more satisfying lives.
With a doctorate in clinical nutrition from the University of North Florida, she has expertise in menopause and weight loss, including the unique challenges faced by those on weight loss medications.
Su-Nui's passion for her field is evident in her previous role as the Academy of Nutrition and Dietetics spokesperson.