50+ Menopause Facts and Statistics
Did you know that 1.3 million people enter menopause every year in the United States? Or that 45% of women do not know the difference between perimenopause and menopause?
This period can be challenging in every woman's life, but not everyone experiences the same symptoms.
Here we'll provide you with facts and statistics about menopause, as well as advice on how to deal with it.
When Does Menopause Start?
Menopause is defined as the point in time when the menstrual period stops. The diagnosis is made after a woman has gone 12 months without menstruating.
The average age of natural menopause is 47 to 53 years old.
Onset age varies in accordance with ethnicity. For example, it starts around 48 years old for women of South Asian background and 50 years for Caucasians living in Australia and Europe.
The average age in the United States is 51 or 52 years.
Premature menopause starts before age 40 and occurs in approximately 2% of women in developed countries.
Premature menopause is associated with a higher risk of cognitive decline later in life.
Early onset occurs between 40 and 45 years old and occurs in 5-8% of women.
Early menopause is associated with an increased risk of heart disease, type 2 diabetes, depression, osteoporosis, and all-cause mortality.
In the United States, approximately 1.3 million women enter menopause every year.
Perimenopause
The State of Menopause Survey reported that just under half (45%) of the surveyed women didn't know the difference between perimenopause and menopause.
Perimenopause is the period around menopause.
The menopausal transition begins when menstrual cycles become irregular, and there are fluctuations in the reproductive hormone levels.
The transition ends after the last menstrual period and is characterized by the stabilization of hormones.
STRAW Classification
The American Society for Reproductive Medicine has developed a new system of classifying women's reproductive years called STRAW 10+.
STRAW divides a woman's life into three phases: reproductive, menopausal transition, and postmenopause. These three phases include a total of seven stages centered around the final menstrual period.
The menopausal transition includes stage -2 (early) and stage -1 (late).
Early transition, or stage -2, occurs when menstrual periods become irregular and levels of follicle-stimulating hormone (FSH) increase.
Late transition, or stage -1 is characterized by the beginning of skipped cycles, or amenorrhea, of at least 60 days and elevation of FSH.
Postmenopause also consists of stages +1 (early) and +2 (late).
Hot Flashes and Night Sweats
Approximately 75-85% of women experience vasomotor symptoms. Examples of vasomotor disturbances are hot flashes, nocturnal sweats, palpitations, and headaches.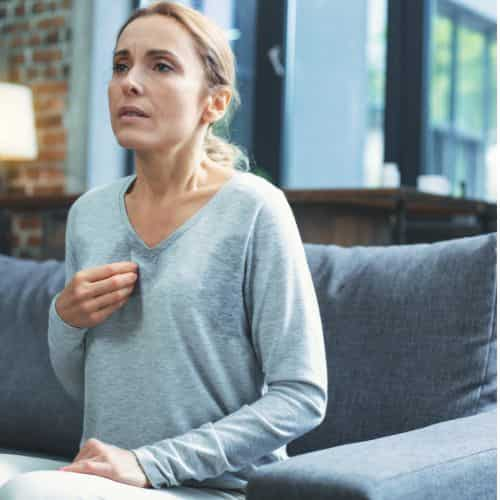 Hot Flashes
Also known as hot flushes, hot flashes are one of the most common symptoms of menopause. Hot flashes are defined as transient sensations of heat, sweating, flushing, anxiety, and chills lasting for 1–5 min.
Alcohol, certain foods, and emotional stress can worsen the intensity and severity of hot flashes.
The average duration of hot flashes is 4 to 7 years.
Hot flashes that happen at night are called night sweats.
Night Sweats
Defined as sweating at night even when it is not excessively hot in your bedroom, night sweats are a common symptom.
10-41% of women being seen by doctors in a primary care setting report night sweats in their patients
Weight Gain
The North American Menopause Society reports that menopausal women gain an average of 5 pounds (2 kg).
Weight gain is a more common complaint during the menopausal transition.
Women who have a higher body mass index (BMI) may go through the menopausal transition more slowly than those with a lower BMI.
In the years leading to menopause, women tend to experience an increase in visceral fat. The ratio of abdominal fat in a premenopausal woman is between 5-8% of total body fat but between 15%-20% of total fat during the postmenopausal period.
Women also lose total lean body mass during the transition period.
A large study shows an increase in waist circumference of 6%, a 10% increase in fat mass, and 1% decrease in skeletal muscle over a 6-year period around the last menstrual cycle.
Urogenital Symptoms
60% of women experience urogenital symptoms.
These symptoms include vaginal atrophy, urethral atrophy, and a decrease in libido.
Vaginal atrophy can result in painful intercourse, and urethral atrophy can result in stress incontinence, urinary frequency, and urgency.
Psychological Symptoms
45% of women report psychological symptoms including anger, irritability, anxiety, depression, sleep disturbance, loss of concentration, and loss of self esteem.
Approximately 20% report depression at some point during this time, and depression is more common in those with a previous history.
The severity of depression is worse in women in the transition period compared to the time of premenopause.
Brain Health
Two out of three women report changes in brain health during the transition to menopause.
Perimenopausal women often report memory problems during the perimenopausal period compared with the pre- or postmenopausal period.
Perimenopausal women have a decline in verbal delayed memory and executive function when compared to the pre- and post-menopausal periods.
Sleep
37% of women ages 40 to 55 report difficulty sleeping.
Hot flashes and night sweats, in addition to stress and health-related lifestyle factors, are all associated with sleep disturbances.
Sleep problems improve when women approach postmenopause.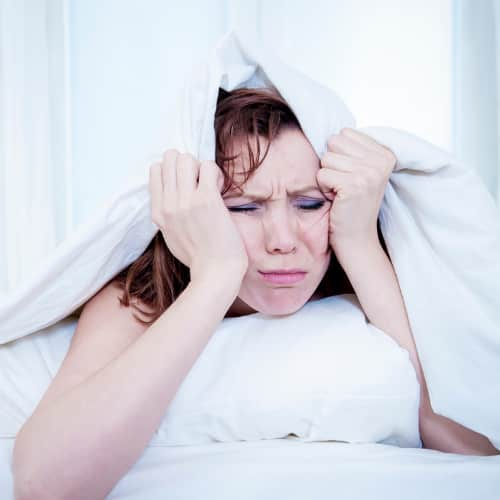 How Women Manage Menopause
The State of Menopause Survey showed that 29% of women in the United States never seek information about this condition before they experience it.
20% of women experience e symptoms for more than a year before being assessed by a health care provider.
34% of women never receive a diagnosis.
According to Statistica, 73% of women between 40 and 65 years of age don't treat their symptoms.
The Bottom Line
Though many symptoms and side effects are associated with menopause, not all women experience them. However, understanding this condition better can give women the tools to ease their problems so that they can take control of their health during this time.
References
Bansal R, Aggarwal N. Menopausal hot flashes: A concise review. Journal of Mid-life Health. 2019;10(1):6. doi:10.4103/jmh.jmh_7_19
Conde DM, Verdade RC, Valadares AL, Mella LF, Pedro AO, Costa-Paiva L. Menopause and Cognitive Impairment: A narrative review of current knowledge. World Journal of Psychiatry. 2021;11(8):412-428. doi:10.5498/wjp.v11.i8.412
Dalal PK, Agarwal M. Postmenopausal syndrome. Indian journal of psychiatry. https://www.ncbi.nlm.nih.gov/pmc/articles/PMC4539866/. Published July 2015. Accessed July 12, 2022.
de Kruif M, Spijker AT, Molendijk ML. Depression during the perimenopause: A meta-analysis. Journal of Affective Disorders. 2016;206:174-180. doi:10.1016/j.jad.2016.07.040
Delamater L, Santoro N. Management of the Perimenopause. Clin Obstet Gynecol. September 2018:419-432. doi:10.1097/GRF.0000000000000389
Harlow SD, Gass M, Hall JE, et al. Executive summary of the stages of reproductive aging workshop +10: Addressing the unfinished agenda of staging reproductive aging. Climacteric. 2012;15(2):105-114. doi:10.3109/13697137.2011.650656
Karvonen-Gutierrez C, Kim C. Association of mid-life changes in body size, body composition and obesity status with the menopausal transition. Healthcare. 2016;4(3):42. doi:10.3390/healthcare4030042
Kaur M, Kaur M. Is cognitive performance of women sensitive to the severity of menopausal symptoms? Menopause. 2022;29(2):170-177. doi:10.1097/gme.0000000000001910
Menopause. UCLA. https://www.uclahealth.org/obgyn/menopause. Accessed July 17, 2022.
Mishra GD, Chung H-F, Cano A, et al. Emas position statement: Predictors of premature and early natural menopause. Maturitas. 2019;123:82-88. doi:10.1016/j.maturitas.2019.03.008
Peacock K, Ketvertis KM. Menopause – StatPearls – NCBI Bookshelf. National Library of Medicine. https://www.ncbi.nlm.nih.gov/books/NBK507826/. Published February 2022. Accessed July 12, 2022.
State of Menopause survey. Bonafide. https://hellobonafide.com/pages/state-of-menopause. Accessed July 18, 2022.
Dr. Su-Nui Escobar, a Registered Dietitian/Nutritionist in Miami, FL, is dedicated to empowering women in perimenopause and menopause to live healthier, more satisfying lives.
With a doctorate in clinical nutrition from the University of North Florida, she has expertise in menopause and weight loss, including the unique challenges faced by those on weight loss medications.
Su-Nui's passion for her field is evident in her previous role as the Academy of Nutrition and Dietetics spokesperson.