Chocolate Oat Smoothie for Weight Loss
Are you looking for a delicious and healthy way to lose weight? Look no further than this Chocolate Oat Smoothie! We packed this smoothie with protein and fiber to boost your metabolism, reduce cravings, and make you feel full for longer.
It's also easy to make and tastes great too. This smoothie will satisfy both your sweet tooth and your health goals with just the right amount of sweetness. So give it a try today—you won't regret it!
Ingredients
Our Chocolate Oat Smoothie is a combination of good-for-you ingredients that are great for weight loss.
Oats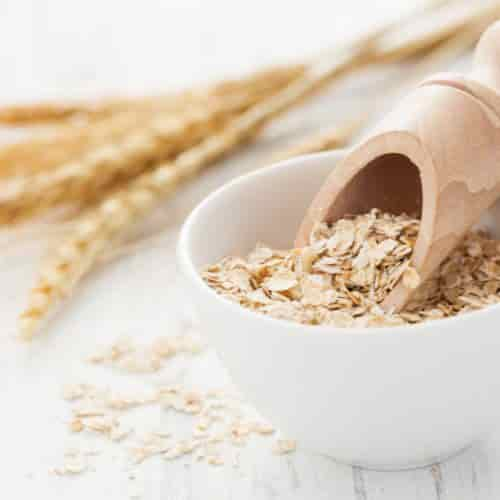 Oats aren't just for oatmeal! They are a whole grain and a great source of fiber and carbohydrates.
Oats contain an abundance of a specific type of fiber called beta-glucan. This water-soluble fiber creates a gel in the digestive tract that slows down digestion and the absorption of nutrients.
This helps you feel fuller for a longer period of time, making it easier for you to fight food cravings.
Beta-glucan can also help with weight loss by promoting a healthy blood sugar balance, which can reduce cravings for sweets.
Strawberries
Strawberries are a low-glycemic fruit, meaning that they contain less sugar than other fruits and do not cause spikes in blood sugar. This is helpful for weight loss because blood sugar spikes lead to increased hunger.
Also, strawberries are a great source of vitamin C and polyphenols, both of which are antioxidants that slow the aging process.
A win-win!
Bananas
Bananas add natural sweetness and a thick texture to this smoothie.
This versatile fruit also contains prebiotic fiber, which promotes the growth of good bacteria in the gut.
Early studies suggest there is a link between an unhealthy gut, weight gain, lower metabolic rate, and insulin resistance.
Bananas also contain potassium which helps to regulate blood pressure and electrolytes in the body.
Chocolate Plant-Based Protein
Muscle burns more calories than fat, so eating enough protein to keep lean muscle is essential for weight loss.
This is especially important for people over 40, women in menopause, and people who exercise regularly.
Including a protein source at every meal will help maintain lean muscle.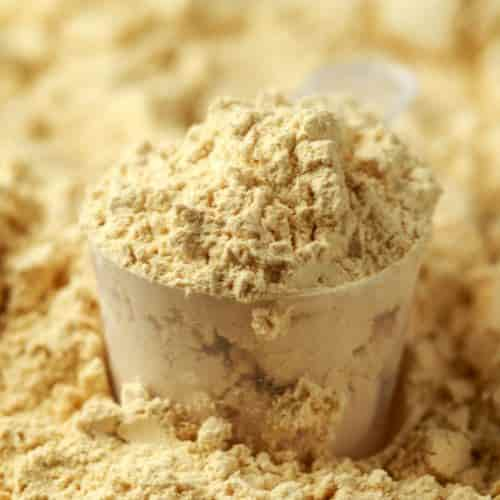 Protein is also important for women during weight loss because it helps with feeling full longer. This can help resist the temptation for sweets.
Many experts recommend eating 20-30 grams of protein for breakfast to support weight loss efforts. Depending on the specific protein powder you use, this smoothie has around 30 grams of protein.
We chose a chocolate plant-based protein powder for this smoothie. However, your protein powder could be either plant-based or whey, depending on your preference.
Coconut Yogurt
Coconut yogurt is a great dairy-free alternative to regular yogurt that has similar health benefits.
It contains probiotics that help support a healthy and diverse microbiome.
Probiotics have also been shown to improve mental health through the gut-brain axis. This relationship maintains good communication between your brain and stomach to improve hunger and fullness cues.
Flax Seeds
Ground flaxseed has a mild, nutty flavor. It's the perfect ingredient to increase your daily fiber intake and help with weight loss.
Like bananas, flaxseed also contains prebiotic fiber that supports a healthy gut.
One study found that supplementation with flaxseed for more than 12 weeks leads to weight reduction and a lower BMI in obese people.
Flaxseed is rich in an omega-3 fatty acid that is essential to the body called alpha-linolenic acid. Omega-3 fats can prevent heart disease, cancer, and several other chronic conditions.
These fatty acids may also help with mood disorders and depression, which often impact weight.
Last, this superfood might be helpful in the management of menopause symptoms.
Almond Milk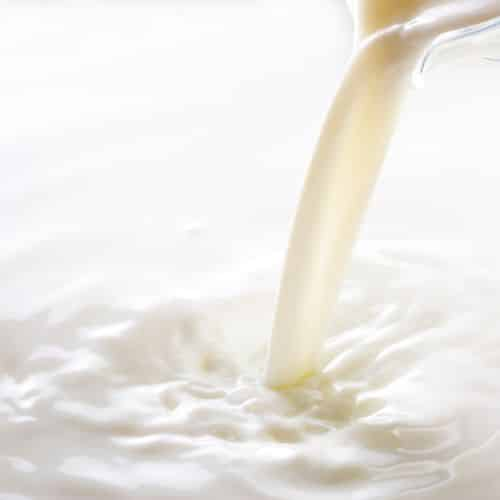 We used almond milk in this recipe to blend all the ingredients. Almond milk is low in calories, and unsweetened versions are also low in carbohydrates.
Some almond milk can contain a lot of added sugar. The American Heart Association recommends limiting added sugars to no more than 25 grams per day. This smoothie uses fruit for natural sweetness, so the extra sugar is not needed.
You can find added sugars on the nutrition facts label underneath the carbohydrate section.
FAQ
Can protein help with weight loss?
Eating enough protein is crucial to weight loss because it promotes satiety and keeps you fuller for longer. Protein also helps to maintain lean muscle during weight loss, which helps support a healthy metabolism.
Can I use a different flavored protein?
You can make this smoothie with any flavor of protein. The ingredients will also pair particularly well with vanilla protein powder.
Can I use whey protein?
Absolutely. Feel free to substitute your favorite whey protein.
Will this smoothie serve as a meal replacement?
This smoothie contains sources of carbohydrates, fat, and protein. Therefore, it can make a well-balanced meal or filling snack.
It is also contains sufficient calories for most people.
Can I store this smoothie?
This smoothie is best consumed fresh.
If you need a quick breakfast in the morning, put all the ingredients except for the almond milk in your blender, cover, and leave it in the fridge overnight. In the morning, just add the almond milk and blend.
Can I use frozen bananas?
Absolutely. Frozen bananas can add a creamer texture to the smoothie as well as a refreshing coolness.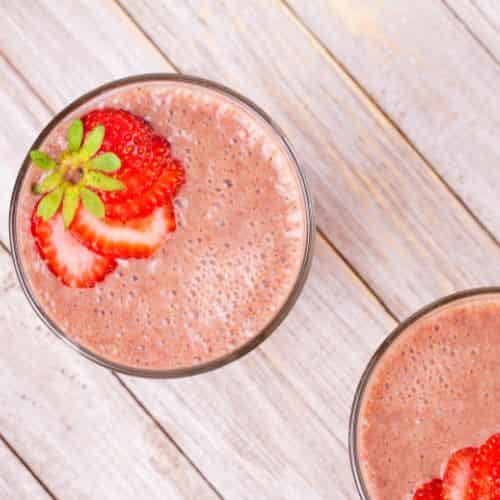 Chocolate Oat Smoothie for Weight Loss
Fruit can sometimes be hard to blend, especially if it's frozen. To create the best possible texture, try blending the fruit with the almond milk first. Then add in all the other ingredients and blend a second time.
Print
Pin
Rate
Equipment
High power blender

Spoon

Measuring cups

8-oz cup
Ingredients
¼

cup

Rolled oats

3

Strawberries

fresh or frozen

½

Banana

fresh or frozen

20

grams

Pea protein powder

chocolate flavored

⅓

cup

Coconut yogurt

or any plant-based yogurt

1

tbsp

Almond butter

1

tsp

Ground flaxseed

6

oz

Unsweetened almond milk
Instructions
Combine all ingredients in a blender until smooth.
Nutrition
Calories:
396
kcal
|
Carbohydrates:
42
g
|
Protein:
25
g
|
Fat:
16
g
|
Saturated Fat:
1
g
|
Polyunsaturated Fat:
4
g
|
Monounsaturated Fat:
7
g
|
Sodium:
435
mg
|
Potassium:
476
mg
|
Fiber:
7
g
|
Sugar:
14
g
|
Vitamin A:
42
IU
|
Vitamin C:
36
mg
|
Calcium:
396
mg
|
Iron:
6
mg
Share on Facebook
Share by Email
The Bottom Line
Use this smoothie as a quick meal or snack to help support your weight loss journey. Smoothies are a great way to pack protein, fiber, vitamins, and healthy fats into your day.
"Chocolate oat smoothie for weight loss" was written by soon-to-be Registered Dietitian Ruby Rodriguez and edited by Dr. Su-Nui Escobar, DCN, RDN, FAND.
Dr. Su-Nui Escobar, a Registered Dietitian/Nutritionist in Miami, FL, is dedicated to empowering women in perimenopause and menopause to live healthier, more satisfying lives.
With a doctorate in clinical nutrition from the University of North Florida, she has expertise in menopause and weight loss, including the unique challenges faced by those on weight loss medications.
Su-Nui's passion for her field is evident in her previous role as the Academy of Nutrition and Dietetics spokesperson.