Anti-Inflammatory Turmeric Oatmeal Recipe
"Anti-inflammatory turmeric oatmeal recipe" was written by soon-to-be-Registered Dietitian Nina Deuschle. Edited by Dr. Su-Nui Escobar, RDN.
Looking for a delicious and healthy breakfast recipe? Look no further than this turmeric oatmeal!
Turmeric is a powerful anti-inflammatory agent, and oats are loaded with fiber.
This recipe is perfect for those looking to start their day off on the right foot. Give our anti-inflammatory turmeric oatmeal recipe a try and let us know what you think!
Turmeric Oatmeal Nutrition Benefits
Turmeric oatmeal is a great way to kickstart your morning while getting some important nutrients. This breakfast dish is not only delicious, but it also offers a range of health benefits that are sure to make you feel great for the whole day.
Health Benefits of Oats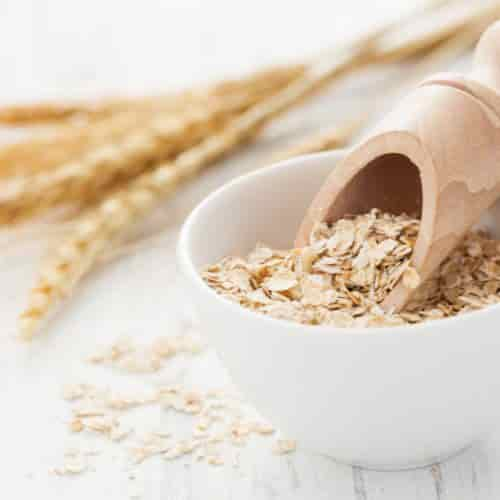 Oats are whole grain and contain a soluble fiber known as beta-glucan, which helps decrease cholesterol levels.
What's more, the fiber found in them may even be able to lower your risk of developing colorectal cancer. An analysis conducted on 25 studies suggested that consuming whole grains is associated with a reduced risk of developing this common cancer.
Eating oats can also reduce hunger and keep you feeling fuller for longer, can help manage blood sugar levels, and prevent constipation. The fiber found in this healthy grain is also known to encourage the growth of healthy gut bacteria.
Lastly, oats are high in antioxidants and polyphenols, which are beneficial plant compounds that help to lower the risk of many chronic diseases.
Health Benefits of Turmeric
Turmeric is a spice with a distinct bright yellow color. It has been used in Ayurvedic and Chinese medicine for centuries to help treat a variety of conditions and ailments.
More recently, our Western medicine system has begun studying the benefits of turmeric. Research has shown that turmeric will reduce inflammation and improve gut health.
The antioxidant properties of turmeric can help slow down the aging process. It can also promote mood management, improve the integrity of blood vessels, and reduce the frequency and severity of hot flashes in women experiencing menopause.
Turmeric is available as a fresh root and in a dried spice. It can also be found in capsules, extracts, and beverages. One of the easiest ways to add turmeric to your oatmeal is to buy it in powdered form at your grocery store.
Guide to Buying Oats
If you've ever searched for oats at the grocery store, you will have noticed a bewildering number of options to choose from.
Between the rolled, instant, steel-cut, and groats, you might well be unsure of which variety of oats to put in your shopping cart. Here's our handy guide to which oats are right for you.
Rolled oats are first steamed and then rolled into thick flakes. They might also be labeled old-fashioned oats. This type cooks relatively quickly, making them a good choice for busy mornings.
Instant oats are steamed and flaked; these are thinner than the rolled variety, and they take less time to cook.
Steel-cut oats contain the entire kernel, chopped. Out of all the varieties, they take the longest to cook.
Groats contain the entire oat kernel in its whole form. These take the longest to cook.
For this recipe, I recommend using rolled oats. However, you can alter the recipe to use whatever you have on hand. Read on for more about alterations you can make to this recipe for healthy turmeric oats.
Turmeric Oatmeal Recipe Variations
When it comes to oatmeal, there is a variation to suit everyone. It can be made hot on the stove or cold if you enjoy overnight oats.
While rolled oats work best in this specific recipe, you can absolutely use instant or steel-cut oats, if that's what you prefer.
Just remember that the cooking time might need to be reduced if you're using instant oats. If you're using steel-cut oats, you will likely need to use more milk and you'll definitely want to cook them longer.
The type of milk used to make your turmeric oatmeal is completely up to you. This recipe calls for cashew milk because it offers a rich, creamy texture. It's also a source of vitamins, minerals, and beneficial unsaturated fats.
However, you can make this turmeric oatmeal recipe with any type of milk that you have on hand.
Use your favorite sweetener. I've tested this recipe using maple syrup, but honey would work just as well. If you prefer to use a sugar-free sweetener like monk fruit, give it a try!
When it comes to spices, don't be afraid to get creative. If you don't love the flavor of ginger but you really enjoy cloves, make the substitution.
Turmeric Oatmeal Recipe
A nutritent powerhouse, this recipe is loaded with powerful anti-inflammatory ingredemtns. Surprisingly, maple syrup also contains anti-inflammatory properties.
Print
Pin
Rate
Ingredients
2

cups

cashew milk

or any other milk of choice

1

cup

rolled oats

2

tbsp

ground flaxseed

2

tsp

maple syrup

1

tsp

ground turmeric

1

tsp

ground cinnamon

1/2

tsp

ground ginger

1

pinch

salt
Instructions
In a small saucepan over medium-low heat, combine all ingredients.

Bring to a simmer and reduce heat to low. Stir frequently for about 4 minutes or until oats become soft and fluffy. Serve immediately in 2 bowls with desired toppings. Enjoy!
Notes
Optional toppings: toasted coconut flakes, nut butter, berries, chopped apple, banana slices
Nutrition
Calories:
243
kcal
|
Carbohydrates:
37
g
|
Protein:
7
g
|
Fat:
8
g
|
Saturated Fat:
1
g
|
Polyunsaturated Fat:
3
g
|
Monounsaturated Fat:
2
g
|
Sodium:
186
mg
|
Potassium:
255
mg
|
Fiber:
7
g
|
Sugar:
5
g
|
Vitamin A:
3
IU
|
Vitamin C:
0.3
mg
|
Calcium:
59
mg
|
Iron:
3
mg
Share on Facebook
Share by Email
References
Ataei-Almanghadim K, Farshbaf-Khalili A, Ostadrahimi AR, Shaseb E, Mirghafourvand M. The effect of oral capsule of curcumin and Vitamin E on the hot flashes and anxiety in postmenopausal women: A triple blind randomised controlled trial. Complementary Therapies in Medicine. 2019;48:102267. doi:10.1016/j.ctim.2019.102267
Aune D, Chan DS, Lau R, et al. Dietary fibre, whole grains, and risk of colorectal cancer: Systematic review and dose-response meta-analysis of prospective studies. BMJ. 2011;343:d6617-d6617. doi:10.1136/bmj.d6617
Manning J. Oatmeal: Nutrition, benefits, types, toppings. WebMD. https://www.webmd.com/diet/oatmeal-benefits. Published November 11, 2020. Accessed June 20, 2022.
Nordqvist J. Oats: Health benefits, facts, research. Medical News Today. https://www.medicalnewstoday.com/articles/270680#benefits. Published January 3, 2018. Accessed June 20, 2022.
Dr. Su-Nui Escobar, a Registered Dietitian/Nutritionist in Miami, FL, is dedicated to empowering women in perimenopause and menopause to live healthier, more satisfying lives.
With a doctorate in clinical nutrition from the University of North Florida, she has expertise in menopause and weight loss, including the unique challenges faced by those on weight loss medications.
Su-Nui's passion for her field is evident in her previous role as the Academy of Nutrition and Dietetics spokesperson.