Anti-Inflammatory Moroccan Chicken
This anti-inflammatory chicken recipe is a delicious and healthy way to add some flavor to your dinner table.
It's packed with spices like turmeric, ginger, and cinnamon, which are all known for their anti-inflammatory benefits.
The honey adds sweetness to balance out the spices. Surprisingly, honey also has anti-inflammatory properties.
This recipe is one of my family's favorites!
Why You Will Love This Recipe
It's very flavorful. The combination of spices makes for a delicious, complex taste that you will love.
It's quick and easy to make! All the ingredients go into one pan—you just mix them together.
It's healthy. The inflammation-fighting benefits of the ingredients are an added bonus.
It has both sweet and savory elements. The honey adds a sweetness that balances out the savory tang of the spices.
Anti-Inflammatory Spices
Turmeric
Turmeric is a golden spice renowned for its anti-inflammatory properties, primarily due to a compound called curcumin.
Curcumin is a potent antioxidant that neutralizes free radicals while boosting the body's beneficial enzymes and inhibiting those enzymes that are harmful.
Turmeric's powerful anti-inflammatory effects can benefit individuals with chronic inflammatory conditions, creating a natural and tasty alternative for managing their symptoms.
Ginger
Ginger is a popular ingredient in many cuisines around the world and is known for its natural anti-inflammatory properties.
The main active compound in ginger, called gingerol, gives it its unique flavor and also helps reduce inflammation.
Gingerol works by blocking the production of proteins that promote inflammation and can also regulate immune responses.
Adding ginger to your diet may effectively reduce inflammation and provide relief from inflammatory conditions.
Cinnamon
Cinnamon, a beloved spice frequently used in baking and cooking, also has noteworthy anti-inflammatory properties.
Cinnamon—specifically its main bioactive compound called cinnamaldehyde—has been extensively studied for its anti-inflammatory effects.
Additionally, cinnamon contains antioxidants like polyphenols and flavonoids. These antioxidants work by neutralizing harmful free radicals in the body, further fighting inflammation.
So, adding a touch of cinnamon to your meals not only enhances their flavor but also supports your overall health.
Black Pepper
Although frequently overlooked, black pepper is a spice that greatly enhances the benefits of turmeric.
On its own, it's difficult for the body to absorb curcumin, the active ingredient in turmeric.
However, combining it with black pepper has been proven to boost its absorption significantly.
So, when you use turmeric, adding black pepper will maximize the anti-inflammatory and antioxidant benefits of both spices.
This is the reason why you see many recipes that include both spices.
Honey
When it comes to inflammation, we are often hesitant about anything sweet. However, honey is a good surprise.
A natural sweetener, honey is also lauded for its anti-inflammatory properties. Rich in phenolic compounds like flavonoids, it can act as an antioxidant, combating harmful free radicals that contribute to inflammation.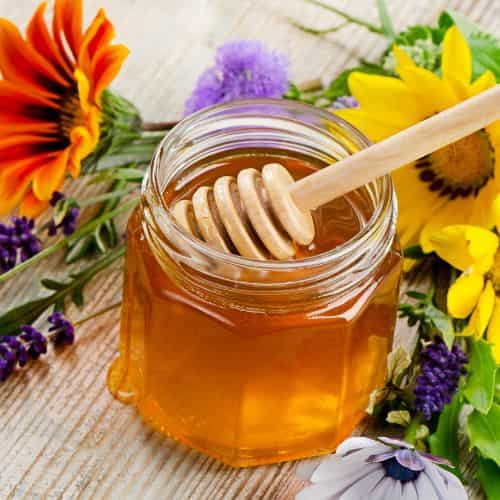 Furthermore, honey's soothing effect has been traditionally utilized in alleviating throat inflammation and coughs, hinting at its potential anti-inflammatory capacity.
In this dish, honey truly brings all the flavors together.
A Bonus Health Benefit of this Recipe
A surprising ingredient in this recipe is prunes. This dried fruit provides flavor and a pleasant texture. The combination of the chicken with the fruit is delightful.
But the prunes also have a secret health benefit that makes them even more special! They're full of fiber, so they are known to help with constipation.
So, if you're looking for an anti-inflammatory meal with some extra health benefits, this recipe is definitely worth trying. It has it all—a wealth of health benefits combined with delicious flavor.
How to Make Anti-Inflammatory Chicken
This anti-inflammatory chicken recipe is very easy to make. It just takes a little bit of time to cook.
Step One
In this step, you will only cook the outside of the chicken.
You start by searing the chicken. This locks in the juices and gives it a nicer flavor.
To begin, heat some olive oil in a large skillet over medium-high heat. Once it's hot, add the chicken pieces and cook them for approximately 3 minutes. You turn them and continue to cook them for an additional 3 minutes.
You then transfer the chicken to a plate and set it aside.
Step Two
After removing the chicken from the pan, decrease the heat to medium-low and add more olive oil. The spices then go into the pan to cook for 1-2 minutes.
This step toasts the spices to release their aroma. It results in a bolder and more complex flavor.
Step Three
The chicken then goes back into the pan with enough chicken broth to cover the pieces. Further seasoning is added with salt and black pepper.
The heat is then turned to high until the liquid reaches a boiling point. The pan is covered, the heat is lowered to medium-low, and the chicken is cooked for approximately 45 minutes.
Step Four
Once the chicken is cooked, the prunes, honey, and chicken broth are added to the pan. Everything is well stirred to combine all the ingredients and simmered for an additional 30 minutes.
Step Five
Enjoy this delicious savory meal that you know is also good for you (you don't have to tell your family this last part).
Feel free to double the recipe so that you have leftovers to eat the next day. This recipe will refrigerate very well.
Ingredients
3

tablespoons

olive oil

1 ¼

lbs

boneless chicken thighs or breasts

1

teaspoon

turmeric

ground

1

teaspoon

ginger

ground

½

teaspoon

cinnamon

ground

Black pepper

ground

Salt

3

cups

low-sodium chicken broth

½

cup

dried apricots

½

cup

dried prunes

4

tablespoons

honey
Instructions
Add two tablespoons of olive oil to a large skillet or saucepan over medium-high heat.

Place the chicken pieces in the pan. Don't crowd them, or they won't brown correctly.

Cook the chicken pieces for 3 minutes until golden brown. Turn and cook the other side for an additional 3 minutes.

Remove the chicken from the pan. Set aside.

Decrease the heat to medium-low. Add the rest of the olive oil to the pan. Add the spices and cook for about 1 minute. This will release an incredible aroma.

Return the chicken to the pan.

Add enough chicken broth to cover the chicken and increase the heat to medium-high. Cook until the water boils. Let it boil for 2-3 minutes. Then, cover, decrease the heat and let it simmer for 45 minutes.

Add honey, apricots, and prunes. Cook for an additional 30 minutes.
Share on Facebook
Share by Email
Dr. Su-Nui Escobar, a Registered Dietitian/Nutritionist in Miami, FL, is dedicated to empowering women in perimenopause and menopause to live healthier, more satisfying lives.
With a doctorate in clinical nutrition from the University of North Florida, she has expertise in menopause and weight loss, including the unique challenges faced by those on weight loss medications.
Su-Nui's passion for her field is evident in her previous role as the Academy of Nutrition and Dietetics spokesperson.