Apple Cider Vinegar for Hot Flashes: Is the Solution in Your Pantry?
The secret to relieving hot flashes during menopause might be sitting in your pantry.
Since being discovered thousands of years ago, several health benefits have been attributed to apple cider vinegar.
It is known to control blood sugar, promote weight loss, and reduce blood pressure. It can even help support a healthy gut microbiome and function as a potent anti-microbial.
Keep reading to find out whether apple cider vinegar can help relieve a common symptom of menopause.
What Is Apple Cider Vinegar?
Apple cider vinegar (ACV) is a type of vinegar made from fermented apple juice. It is acidic and has a strong taste and smell.
Due to its acidity, apple cider vinegar has a long shelf life and a variety of culinary uses.
You can often find it in salad dressings, marinades, and pickles. It is a great way to add flavor to food without calories or sodium.
ACV contains little to no calories, fat, or sodium and small amounts of some vitamins and minerals.
This vinegar contains gut-healthy bacteria because of its fermentation process.
How Can Apple Cider Vinegar Reduce Hot Flashes?
Evidence that apple cider vinegar can reduce hot flashes is anecdotal. To date, there is no scientific evidence that explicitly supports this theory.
However, research on blood sugar may help explain how apple cider vinegar may play a role in reducing hot flashes.
One study found that women experiencing frequent hot flashes had higher glucose levels than those without them.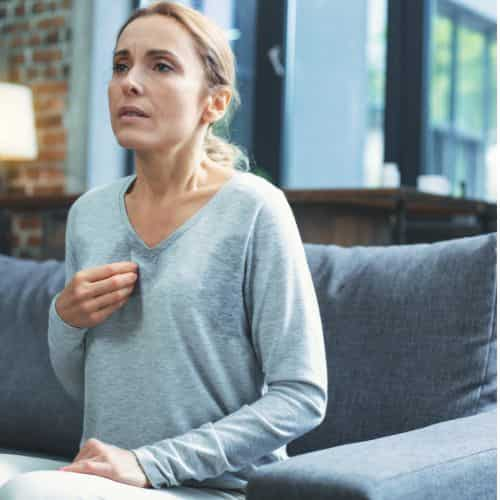 It is possible that because ACV helps decrease blood sugar, it can also help relieve hot flashes in women with elevated blood glucose.
How Should Apple Cider Vinegar Be Taken?
ACV should always be diluted in water or other liquids.
The recommended dose is 1-2 teaspoons daily mixed with a cup of still water before meals. You can also drink it mixed with sparkling water. Try our recipe listed at the end of this post.
Drink it for at least eight weeks or until your symptoms improve.
You can also find apple cider vinegar in capsules, tablets, and gummies at the grocery store and online. Some companies even make beverages with ACV in them.
Other Benefits
The benefits of apple cider vinegar don't end with blood sugar control and fewer hot flashes. Here are some other reasons to incorporate ACV into your life.
Digestive Health
Erratic hormone levels during menopause can lead to symptoms such as constipation, diarrhea, and bloating. You can relieve many of these digestive symptoms by eating a diet that includes plenty of gut-friendly foods.
Apple cider vinegar is a great elixir to support gut health. It is one of the few foods that contain prebiotics, probiotics, and polyphenols.
These components help support a healthy and diverse microbiome and can ease digestive symptoms.
Weight Loss
Apple cider vinegar alone is not going to cause dramatic weight loss.
However, research suggests that supplementing a diet with ACV results in greater weight loss.
In one study, a small group of adults ate a calorie-restricted diet supplemented with one tablespoon of apple cider vinegar before lunch and dinner.
The participants in this group reduced their body weight by 8.8 pounds over 12 weeks.
Participants on the calorie restriction alone only lost 5 pounds over 12 weeks.
The apple cider vinegar group also noted that they had a decreased appetite.
Cardiovascular Risk
Too much fat in your blood can cause arteries to narrow and raise your risk of developing heart disease and stroke.
Researchers examined the results of nine studies that used apple cider vinegar as an intervention for improving blood lipid levels.
The studies found that apple cider vinegar can reduce total cholesterol concentrations in the blood. The most considerable impact was on patients with type 2 diabetes.
According to researchers, the optimal dosage of apple cider vinegar to achieve results was one tablespoon for at least eight weeks.
Side Effects
Apple cider vinegar should always be diluted before being consumed. On its own, ACV is extremely acidic and can even be damaging to your esophagus and erode tooth enamel.
Other side effects of taking apple cider vinegar include
Nausea
Vomiting
Interactions with drugs, such as insulin and diuretics
Low potassium levels (when consumed in excess)
The Bottom Line
Apple cider vinegar may help reduce hot flashes during menopause. However, there is not any scientific research to specifically support this theory.
Apple cider vinegar can also help balance blood sugar and support gut health.
Considering that it is a safe and common food product, it may be worth seeing how ACV works for you. You can also try other foods that can help decrease hot flashes.
Ingredients
1-2

tablespoons

apple cider vinegar

1

tablespoon

lemon or lime juice

8

oz

flavored sparkling water such as lime

lemon, or cranberry

Ice

Lemon or lime slice
Instructions
Add the first three ingredients to a glass and stir.

Serve over ice and garnish with a lemon or lime slice.
Nutrition
Calories:
3
kcal
|
Carbohydrates:
0.1
g
|
Sodium:
1
mg
|
Potassium:
11
mg
|
Sugar:
0.1
g
|
Calcium:
1
mg
|
Iron:
0.03
mg
Share on Facebook
Share by Email
The Green Mediterranean Diet was written by soon-to-be Registered Dietitian Emily Carney. Edited by Dr. Su-Nui Escobar, RDN.
Dr. Su-Nui Escobar, a Registered Dietitian/Nutritionist in Miami, FL, is dedicated to empowering women in perimenopause and menopause to live healthier, more satisfying lives.
With a doctorate in clinical nutrition from the University of North Florida, she has expertise in menopause and weight loss, including the unique challenges faced by those on weight loss medications.
Su-Nui's passion for her field is evident in her previous role as the Academy of Nutrition and Dietetics spokesperson.