Anti-Inflammatory Ginger Turmeric Lemonade [Easy]
Ginger and turmeric are strong anti-inflammatory foods used in alternative medicine over centuries to reduce body inflammation.
Inflammation is a normal process that aids in the body's healing. However, when it becomes chronic, it can lead to various health problems. These include heart disease, diabetes, gut issues, joint pain, and cancer. Inflammation can also make weight management more challenging.
It's good to know that some foods help combat this process, including turmeric and ginger.
In this blog post, we'll show you how to make a delicious ginger turmeric lemonade. It's a tasty and refreshing drink that is also a great way to fight inflammation.
Ingredients
Turmeric
Turmeric is a spice widely used in Indian and Middle Eastern cuisines for its delicious flavor, positive impact on health, and anti-inflammatory properties.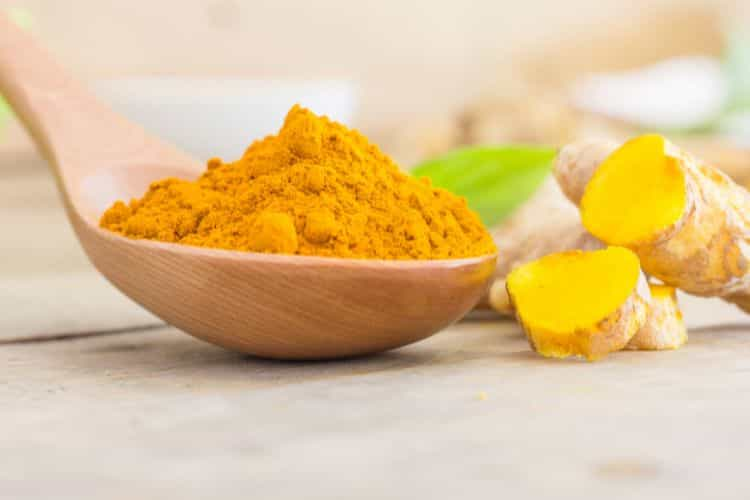 It's also a strong antioxidant that neutralizes free radicals in the body, which are known to play a major role in many diseases, including cancer.
Additionally, the active element of turmeric, curcumin, has been studied to examine its impact on improving memory in adults without dementia.
Last, this powerful ingredient also plays a role in weight management and gut health.
Ginger
Ginger is a robust antioxidant that combats oxidative damage in the body.
It's also known for its potent anti-inflammatory properties.
Studies have shown that, because of its benefits for reducing inflammation, ginger is also good for improving gut health and boosting immunity.
Lemon
Lemons — known for their vitamin C content — are full of antioxidants that protect the body against damage caused by free radicals.
Honey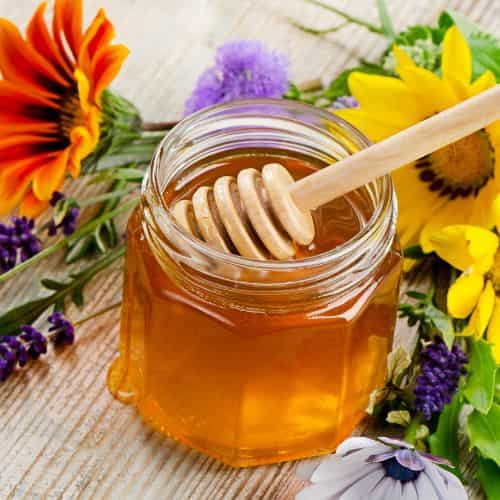 Honey, a natural sweetener, also contains anti-inflammatory properties to fight inflammation.
It's also a great source of antioxidants to prevent free radicals from causing damage to the cells.
Last, it has antimicrobial qualities that help boost the immune system and protect against harmful bacteria.
Benefits
The ingredients in this lemonade provide plenty of health benefits, including:
Anti-inflammatory and antioxidant properties of ginger and turmeric to help protect the body from many diseases by reducing inflammation and fighting free radicals.
Lemon is a great source of vitamin C, boosting immunity and fighting infections.
Antimicrobial properties of honey to reduce the risk of harmful bacteria and viruses. Antioxidants in this natural sweetener also protect the body from damage caused by free radicals, helping to keep you healthy.
This combination of ingredients makes for a delicious, nutritious drink that can help reduce inflammation and offers many health benefits.
FAQ
Can I use fresh ginger and turmeric?
Absolutely. Fresh ginger and turmeric can be used in this recipe for an even more potent healthy drink. I do recommend using a blender if you're using fresh ingredients to make the final result smoother.
Can I use sugar instead of honey?
It is not recommended. Sugar is an inflammatory food, so using honey instead of sugar is better. In addition to being a natural sweetener, honey also contains antioxidants and helps to boost the immune system.
Ginger Turmeric Lemonade Recipe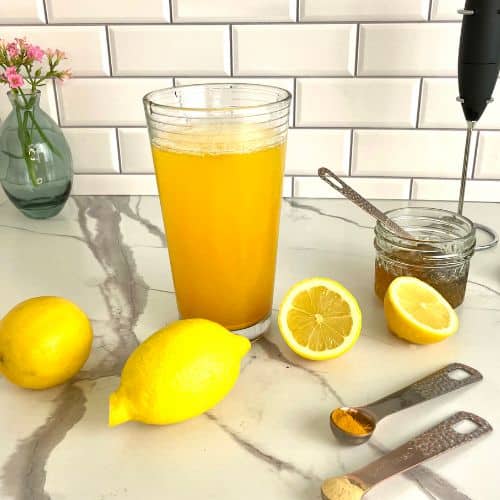 Ginger Turmeric Lemonade Recipe
This lemonade blends ginger and turmeric's potent anti-inflammatory properties, lemons' antioxidant richness, and honey's antimicrobial benefits.
Print
Pin
Rate
Equipment
Milk frother (optional)

optional (can use a spoon)
Ingredients
1

lemon

juiced

1/4

teaspoon

ginger powder

1/4

teaspoon

turmeric powder

1

teaspoon

honey

1

glass cold water

or to taste

1

pinch

black pepper
Instructions
Combine all ingredients

Use a milk frother to blend ingredients until combined (optional)

Enjoy!
Notes
I used a milk frother in this recipe to make blending easier. However, a simple spoon works well or you can use a blender
Nutrition
Serving:
1
g
|
Calories:
59
kcal
|
Carbohydrates:
17
g
|
Protein:
1
g
|
Fat:
0.5
g
|
Saturated Fat:
0.1
g
|
Polyunsaturated Fat:
0.1
g
|
Monounsaturated Fat:
0.03
g
|
Sodium:
4
mg
|
Potassium:
191
mg
|
Fiber:
3
g
|
Sugar:
9
g
|
Vitamin A:
24
IU
|
Vitamin C:
58
mg
|
Calcium:
32
mg
|
Iron:
1
mg
Share on Facebook
Share by Email
The Bottom Line
For some, following an anti-inflammatory diet can seem complicated and intimidating. But simple recipes like this one make it much easier.
This refreshing lemonade is a delicious way to get the anti-inflammatory and antioxidant benefits of ginger, turmeric, and honey.
It's an easy and healthy drink to make that can provide great health benefits. Enjoy!
Do you want more ideas about how to eat an anti-inflammatory diet?
Grab your free healing anti-inflammatory menu here.
Why wait? Get the free food list now and start making healthy changes in your life today!
Dr. Su-Nui Escobar, a Registered Dietitian/Nutritionist in Miami, FL, is dedicated to empowering women in perimenopause and menopause to live healthier, more satisfying lives.
With a doctorate in clinical nutrition from the University of North Florida, she has expertise in menopause and weight loss, including the unique challenges faced by those on weight loss medications.
Su-Nui's passion for her field is evident in her previous role as the Academy of Nutrition and Dietetics spokesperson.