Papaya Smoothie for Weight Loss [Dietitian Approved]
If you're looking for tasty recipes to continue your weight loss journey, a papaya smoothie may be just what you need.
Papaya smoothies are really common in Latin America, where they are considered a healthy breakfast or snack.
Papaya is a nutrient-rich tropical fruit that has been shown to have weight-loss benefits. Not only is it low in calories, but it's also high in fiber and antioxidants, which can help boost your metabolism and improve your overall health.
Ingredients
In addition to the fruit, traditional ingredients for this papaya smoothie include milk and sugar. However, we will craft this version to make it low-calorie while keeping its delicious flavor.
Papaya
Papaya is ideal as a smoothie base because it's delicious and nutritious, with a host of health benefits.
For one, papaya is an excellent source of antioxidants, which can help to protect cells from damage and fight inflammation. Fighting inflammation is important for weight loss for a couple of reasons:
Inflammation can increase insulin resistance, and insulin resistance can lead to weight gain.
Inflammation can impact the hormone that helps you maintain a healthy weight by making you feel full (satisfied) when appropriate.
Papayas are also a good source of fiber to help you feel full for longer (making it easier to avoid tempting snacks).
Furthermore, they contain an enzyme called papain that aids digestion. Papain has been shown to break down proteins and improve digestive function.
Last, papayas are rich in vitamins and minerals, including vitamin C, potassium, and magnesium. These nutrients are essential for maintaining a healthy immune system, regulating blood pressure, and keeping bones strong.
As you can see, including this beneficial fruit in your diet can have many positive effects on your health.
Unsweetened Coconut Milk
To keep the tropical fruit theme, we're using coconut milk in this papaya smoothie.
But any coconut milk alternative you find in the refrigerator section of your supermarket will also do as long as it has no added sugar. Our choice has around 40 calories.
Using coconut milk can help decrease the total calories in this smoothie. However, it also reduces the amount of protein when compared to using cow's milk.
Lime Juice
The main reason to add lime juice is for its flavor, but limes also have many health benefits.
In fact, lime juice is a nutritional powerhouse. Just a half cup contains over 50% of the daily recommended amount of vitamin C, which is essential for supporting the immune system.
Vitamin C is also a powerful antioxidant, so lime juice can help to protect cells from damage caused by free radicals.
In addition, lime juice is a good source of potassium and magnesium, minerals that are important for maintaining healthy blood pressure levels. Lime juice has also been shown to boost levels of HDL (good) cholesterol and reduce levels of LDL (bad) cholesterol.
Customize Your Papaya Smoothie
It's easy to customize your smoothie to better fit your needs.
Add Turmeric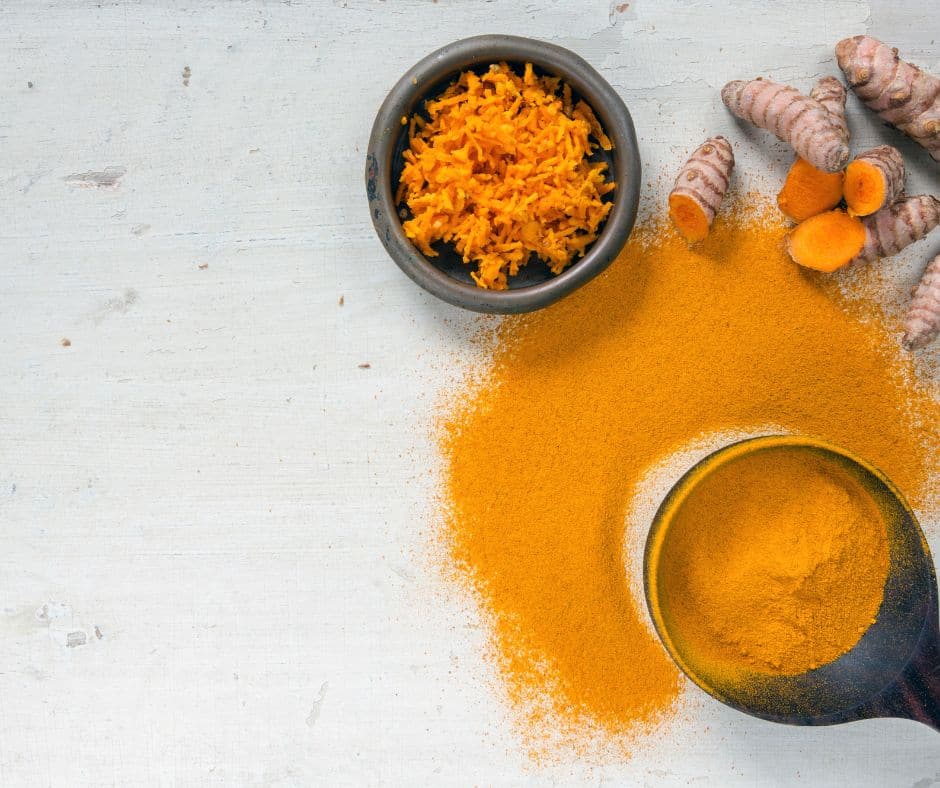 Turmeric is a potent anti-inflammatory, which, as we already established, can help with weight loss. In a review of several studies, consuming this spice was connected to lower weight, BMI, and waist circumference in a large number of people.
Turmeric can also improve common menopause symptoms, such as hot flashes and digestive issues.
To add it to your smoothie, simply mix in 1/2 teaspoon of ground turmeric with the other ingredients.
Add Protein
Adding protein to your meals and snacks can promote weight loss. One of the most important reasons is that protein helps you feel fuller for longer because it takes longer to digest.
This addition to your smoothie can be particularly helpful if you're drinking it as your breakfast.
The quickest way to add protein is to add a proprietary protein powder. But you can also pair your smoothie with eggs or another good source of protein.
Add Greens
Want to add extra fiber and nutrients to your papaya smoothie? Add a handful of spinach or kale. It'll give your drink an extra punch of healthy goodness—and you won't even taste it!
Make it Sweeter
If you're used to batidos de papaya (papaya smoothies in Spanish), you might feel that the blend of fruit with coconut milk is not as sweet as you'd like. In that case, you can add stevia, dates, a banana, or a little bit of honey.
The sweetener you add is important because, for weight loss, you want your shake to be low in calories and with a minimal amount of added sugars.
FAQ
Is papaya good for weight loss?
Papaya is low in calories and high in fiber, which means it will help you feel full and promote weight loss.
What's more, the antioxidants in this fruit help to fight inflammation, which is important for weight loss.
Thus, eating papaya as part of a healthy diet could contribute to your reaching your weight loss goals.
Does papaya make you poop?
Oh yes, papaya can definitely help with constipation!
The high fiber content helps to add bulk to your stool, making it easier to pass. The enzymes in papaya (papain and chymopapain) also help to break down proteins, which can further aid in digestion.
So if you're looking for a natural way to get things moving, this is the perfect smoothie!
Is papaya anti-inflammatory?
The answer is yes! This tropical fruit has long been used as a home remedy for inflammation.
The active constituent in papaya, called papain, is a powerful enzyme that helps to break down proteins. This makes it an effective digestive aid, but it also promotes the reduction of inflammation throughout the body.
In addition, each fruit contains high levels of vitamins A and C, which are both known to be potent antioxidants. These nutrients work to neutralize harmful toxins and protect cells from damage.
For these reasons, eating papaya on a regular basis can help to improve inflammation throughout the body.
When is papaya ripe?
There are a few things to look for when you want to know if a papaya is ripe.
First, gently press on the skin of the fruit. If it gives a little to your touch, then it's ready to eat.
Second, take a whiff of it. If it smells sweet and fruity, then it's good to go.
Finally, check the color. A ripe one will be mostly yellow or orange, with a few green spots. If all of these characteristics are present, then your papaya is ripe and ready to enjoy!
Can I use frozen papaya?
Absolutely! Fresh papaya might not be available in your area, or you might want the convenience of having it in your freezer.
Just make sure the frozen fruit does not contain added sugars.
You might also find it in the Latin food section of the supermarket.
How do you cut papaya?
If you'are new to papaya, here are some tips for cutting it in an easy way.
First, you'll need a sharp knife. Start by slicing off the top and bottom, then peel it with a knife. Next, cut it in half lengthwise.
Scoop out the seeds with a spoon, then cut the flesh into chunks. You can save any unused fruit to eat later as a snack or freeze it.
Can I freeze papaya?
Yes, freezing is a great way to preserve it. First, cut the peeled fruit into chunks (don't forget to remove the seeds) and then pop it into the freezer in an appropriate container.
Is coconut milk fattening?
Coconut milk is often praised as a healthy alternative to cow's milk. But many wonder if it's fattening.
This question arises because many people are used to seeing canned coconut milk, which contains full fat for cooking purposes.
However, if you visit the milk and milk alternative section in your supermarket, you will find coconut milk in the same cartons as other milk alternatives.
This form of coconut milk is low in calories. There is a lot more to say about the type of fat in coconut milk, but that's a discussion for a different blog post.
How to Make a Papaya Smoothie for Weight Loss
Papaya Smoothie for Weight Loss
The sweet taste of papaya combined with coconut milk makes for a low-calorie snack or breakfast. Plus, these fruits are rich in fiber and antioxidants, which are great for boosting metabolism and promoting healthy digestion.
Print
Pin
Rate
Equipment
High power blender

(if using a regular blender and ice in parts)
Ingredients
1

cup

papaya

1

cup

unsweetened coconut milk

Buy fresh from the milk section on the supermarket

1

tablespoon

lime juice

½

cup

ice

Stevia

optional

1/2

tsp

Turmeric

optional
Instructions
Combine all of the ingredients in a blender and blend until smooth.
Notes
If you like your smoothie sweet, add stevia, a banana or a date.If you're making a breakfast smoothie, consider adding protein powder. You can also serve the shake with a couple of eggs or any other source of protein. This will keep you satisfied for longer.To boost anti-inflammatory properties, add turmeric powder.
Nutrition
Serving:
1
glass
|
Calories:
154
kcal
|
Carbohydrates:
30
g
|
Protein:
1
g
|
Fat:
5
g
|
Saturated Fat:
3
g
|
Polyunsaturated Fat:
0.1
g
|
Monounsaturated Fat:
0.1
g
|
Sodium:
61
mg
|
Potassium:
594
mg
|
Fiber:
2
g
|
Sugar:
23
g
|
Vitamin A:
1518
IU
|
Vitamin C:
90
mg
|
Calcium:
494
mg
|
Iron:
0.4
mg
Share on Facebook
Share by Email
The Bottom Line
Papaya smoothies are ideal for a healthy, delicious snack or breakfast that can help promote weight loss. The combination of papaya, coconut milk, lime juice, and ice makes for a refreshing drink that is low in calories and rich in antioxidants and fiber. If you're looking to lose weight, consider adding a little protein powder to your smoothie for sustained energy throughout the day.
If you want to try other nutritious smoothies, check out some more of our delicious recipes.
Sleep-Promoting Banana Bedtime Smoothie
High-Fiber Cherry Banana Smoothie
Dr. Su-Nui Escobar, a Registered Dietitian/Nutritionist in Miami, FL, is dedicated to empowering women in perimenopause and menopause to live healthier, more satisfying lives.
With a doctorate in clinical nutrition from the University of North Florida, she has expertise in menopause and weight loss, including the unique challenges faced by those on weight loss medications.
Su-Nui's passion for her field is evident in her previous role as the Academy of Nutrition and Dietetics spokesperson.